Rotary donates dictionaries to Stadium Drive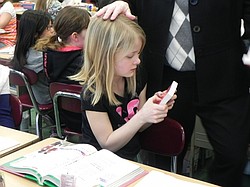 Photo
Angelle Williams couldn't wait to find some new words after receiving her new dictionary.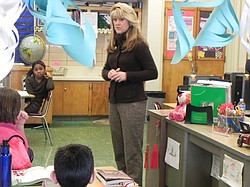 Photo
Neighbors | Sarah Foor .Developing director for Mahoning County libraries, Debra Liptak (right) talked to each of the third-grade classrooms at Stadium Drive about the importance of reading with others and alone.

Photo
After giving the gift of literacy to the students of Stadium Drive Elementary, the Boardman Rotarians were free to show off some happy smiles. Holding the last few dictionaries were Fred Soller (left), Jerry Armbrect, Bill Gambrell, Ken Goldsboro, Debra Liptak, Shelly LaBerto, and Tom Hathorn.
By SARAH FOOR
During an already busy Right-to-Read Week, the students at Stadium Drive Elementary had some surprise visitors who were passionate about words and the power of literacy, and came bearing gifts.
Every third-grader at Stadium Drive received their very own pocket dictionary when the Boardman Rotary visited the school on Feb. 10.
Deborah Liptak, Boardman Rotarian and developing director for Mahoning County Libraries, talked to each third-grade classroom about the Rotary Club and the Rotary projects that raise money for the dictionaries.
"We want kids around the world to have two things: Clean water to drink and the skills to read and write," Liptak told Eileen Haught's classroom. "Because we want you to be really great readers and love words, we're giving you a dictionary today for your very own."
The gift was a cherry on top of an already exciting week of literacy fun that was Stadium Drive's Right-to-Read Week. The Merriam-Webster dictionaries were small and portable, with red plastic covers that will keep them protected in desks and backpacks.
As the Rotarians toured through the third-grade classrooms, they celebrated successes of Right-to-Read program, including Becky Endley's classroom surpassing 5,000 minutes of reading during their free time.
"Every fundraiser we sponsor throughout the year raises money for this project. The students are at an age where they appreciate the gift of words, and that makes all the hard work worth it," said Rotary president Shelly LaBerto after the giveaway.
More like this from vindy.com