Four middle school wrestlers advance to state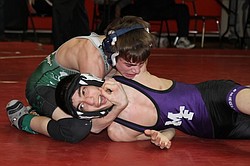 Photo
Poland's Bruno Spotleson (left) controls the action against an opponent during the junior high district meet at Steubenville.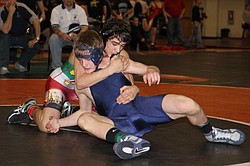 Photo
Anthony Audi (back) defeated Fairless' Rexx Peters to finish third at the junior high district tournament and advance to state.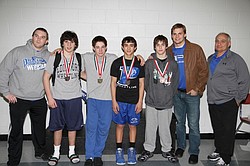 Photo
Neighbors | Submitted.Four Poland Middle School wrestlers qualified for the OAC junior high state tournament at the Covelli Centre March 12-13. The wrestlers and coaches are, from left, head coach Matt Galchick, Anthiny Mancini, Johnny Berndt, Anthony Audi, Bruno Spotlson and assistant coaches Adam Keck and Bob Nespeca.
For four Poland Middle School wrestlers advancing to next weekend's junior high state tournament, the road to state will be a short one.
That's because the tournament will take place a few miles away at the Covelli Centre in downtown Youngstown March 12-13.
Johnny Berndt (132 pounds), Anthony Audi (126), Anthony Mancini (146) and Bruno Spotleson (102) each advanced to the state tournament after competing last weekend at the Ohio Athletic Committee Junior High District Wrestling Tournament in Steubenville.
The top six in each weight class qualified for state, with the seventh-place finisher serving as a state alternate.
Poland made history a few weeks ago by winning its first-ever Eastern Ohio Wrestling League team championship with 12 wrestlers finishing in the top six.
At districts, Berndt went undefeated in the 132-pound bracket, capturing a district championship. Audi finished third at 126 pounds, Mancini was fourth at (146 and Spotleson grabbed the final state berth at 102 pounds, taking fifth. The team is coached by head coach Matt Galchick and assistants Adam Keck and Bob Nespeca.
The state tournament will begin March 12 at 10 a.m. The second round of consolations start March 13 at 8 a.m. and the championship finals will be contested at 6 p.m.
More like this from vindy.com