---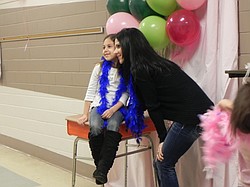 Photo
The girls were given a complimentary picture, and were welcomed to wear tiaras and feather boas in their photos. Lexi Kalicatzaros (left) held a pretty pose with her mom Kathy.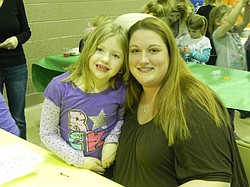 Photo
Nicole Shilling (right) and Alexis Freeborn (left) showed their love for each other by making jewelry with beads that had special meaning.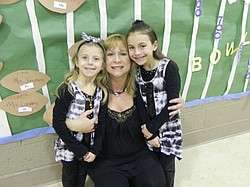 Photo
Neighbors | Sarah Foor .Shelly DiFabio (center) planned Union Elementary's Mother-Daughter night on Feb. 22 with the love she has for her daughters Arianna (left) and Brianna (right) in mind.
By SARAH FOOR
Union Elementary turned into an all-girls school Feb. 22 as moms and daughters attended a special event sponsored by the school's PTO.
"I'm a daughter of two little girls myself, so I definitely understand that unbreakable bond," explained PTO event chair Shelly DiFabio.
Her daughters, Union kindergartner Arianna and second-grader Brianna, attended the event to support their mom.
"Tonight is just a chance for everyone to work together, to connect and enjoy themselves," DiFabio added.
The PTO provided popcorn, pizza and punch for the ladies and gave away a complimentary picture as a keepsake from the event.
The photo area displayed balloons and invited the ladies to try on tiaras and place feather boas on each other's shoulders.
The girls then divided into groups where each duo made a necklace or bracelet for each other with crystal beads.
The colored beads each meant something special, like blue beads representing Poland Pride, and yellow representing cleverness.
Nicole Shilling worked on the jewelry with her daughter, Alexis Freeborn.
"Alexis loves making crafts, and it's nice to see so many of our friends," she said. "It's great to take a few moments to show our appreciation for each other."
After the crafting, DiFabio let the group dance to the song "Who Let the Dogs Out?" a well-known celebration tune for the Poland Bulldogs.
"I know all the ladies at Union tonight support the Bulldogs just as much as they appreciate each other," said DiFabio.