---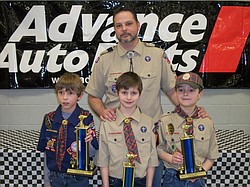 Photo
Pack 184's overall winners were all smiles after a long day of competition. The winners were, first place, Alec DeBaldo (left); second place, Dominic Foley; third place, Ryan Kopcial (right). Cubmaster Tom Foley joined the boys to congratulate them.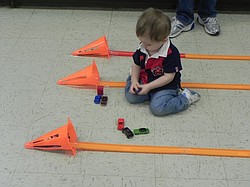 Photo
Neighbors | Sarah Foor .To entertain younger guests during the many races of Pack 184's derby, a mini Pinewood Derby was set up for guests to play with. Luke Freyn, future winner, played with some toy cars near the mini track.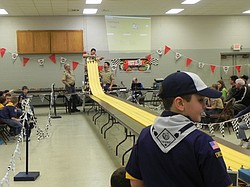 Photo
The race track for Pack 184's Pinewood Derby was a technological mammoth that read races digitally and entered official results into the computer for complete fairness between racers.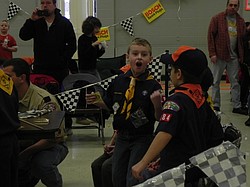 Photo
Scout Erik Vargo (standing) was truly excited when he won a preliminary heat with his Pinewood Derby car.
By SARAH FOOR
The sound of cars speeding down a race track echoed through the activity hall of St. Joseph Church on Feb. 5. However, the fast cars only weighed about 5 ounces.
The event was a national Boy Scout activity called the Pinewood Derby, where cub scouts are given a block of wood, four wheels and two axles and told to create a car. The boys of Pack 184 participated in the event for an entire Saturday afternoon.
After patiently racing in heats from 10 a.m. to 5 p.m., the overall champions for Pack 184 were first-place winner Alec DeBaldo, second-place Dominic Foley, and third, Ryan Kopcial.
"Yes, we know it's a very long day," said former Cub master Greg Wood. "But this is the most important event for our Cubs, and what everyone gets the most excited about."
Tiger den leader Kate Foley thinks the healthy competition is a favorite part for the boys.
"They just love working on their cars, and personalizing them. It's a parent and son, or role model and son, type of activity, and the teamwork aspect makes it so much more fun for the boys to see the proof of their hard work," Foley observed.
Pack 184's tracks entered race times and winners into a computer. The system averaged out speed and time, to make sure that races were evenly matched.
For the younger children not participating in the derby, pack moms provided a mini-track with matchbox cars for the young ones to practice their future races.
Although the competition was fierce, Wood knows the cubs learn more than just winning or losing in the Pinewood Derby.
"I love when the kids continue to participate and learn those things that will make their cars better," he reflected.
"And I never get bored of seeing the kids personalize their cars. The cars are moving pieces of art going down a plastic race track."