Austintown Curves offers Zumba workout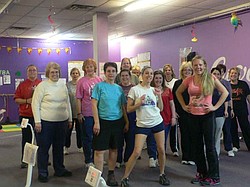 Photo
Neighbors | Submitted.Members of Curves Austintown wind down after a Zumba fitness class Feb. 24. The 30-minute class was led by Micki Cain.
Nonmembers of all ages and fitness levels are invited to try the Curves and the Curves Circuit with Zumba fitness classes free for one week through March 31 in Austintown.
"The classes are 30 minutes long and usually packed. On Mondays and Saturdays in Austintown, we do back-to-back, 30-minute classes and a lot of the members stay for the whole hour," said owner Patti Wirtz from the Austintown Curves.
"Combining the Zumba with our circuit has been a really exciting change and it truly is an awesome workout. A lot of women who aren't looking for a full hour of intense Zumba are really hooked on the Curves Circuit With Zumba Classes. When doing the workout, you can burn up to 500 calories in just 30 minutes. The music just makes you want to move and if you like to dance the steps are really easy to learn."
Curves in Austintown also participates in the Silver Sneakers program for women over 65.
For information, call 330-793-9802 or visit www.curves.com.
More like this from vindy.com