Volney students study Mill Creek founder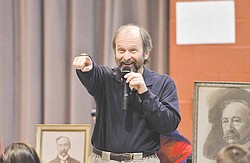 The Vindicator (Youngstown)

Photo
Ray Novotny, Mill Creek MetroParks naturalist, speaks to Volney Rogers Middle School gifted students on the school's namesake and the park district's founder, Volney Rogers.
By Denise Dick
YOUNGSTOWN
Gifted students at Volney Rogers Middle School learned a little about their school's namesake as part of a plan to beautify the area surrounding it.
Rogers founded Mill Creek Park in 1891. "He started the park- district movement," Ray Novotny, Mill Creek MetroParks naturalist, told sixth- through eighth-graders Thursday at the school.
The school was named in Rogers' honor.
Linda Kostka, park development and marketing director, said Debbie Rogers (no relation) contacted her when she was trying to research information about the park founder.
Kostka and Novotny distributed copies of a book, "The Legacy of Mill Creek Park," to the students.
Students in Debbie Rogers' and Nora McDevitt's classes at the school are involved in a program called Earth Force.
They identify a problem in their community and try to come up with ways to address it.
"They picked the courtyard at the school — there's nothing in it — and decided to plan a garden," Rogers said.
"It will be the Volney Rogers Memorial Garden," McDevitt said.
They'll plant the garden themselves this spring with help from teachers and they'll learn about indigenous plants, what plants grow well in different areas and conduct soil testing.
Rogers said that besides the history they learned Thursday about the park founder, the project also involves students using language arts, science and math skills.
Students who are part of an advisory panel are working with Mill Creek Park's landscape architect to design the garden.
Eighth-graders Miranda Fonce, 13, and Lachae Jackson, 14, and seventh-grader Magdalena Delapaz, 13, are three of that panel's members.
"We're deciding what plants will go in the garden," Lachae said.
The garden is divided into four quadrants and students plan to do one quadrant per year, Miranda explained.
Rogers said they'll likely sell steppingstones with people's names engraved on them to help fund the project.
"You can get your name, your family and the year you were here on the stone," Miranda said. "That's what I want to do."
The girls say they'll visit the garden, even after they leave school.
"I hope it's a really pretty place for people to come to," Magdalena said.
More like this from vindy.com