Ex-stutterer, Fitch speech coach gets statewide honor
The Vindicator (Youngstown)

Photo
Joe Curry has been an assistant coach for Fitch High School's speech and debate team for 30 years. He will be inducted into the Ohio High School Speech League Hall of Fame in Toledo today.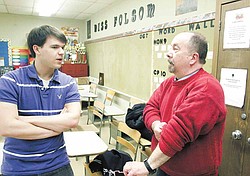 The Vindicator (Youngstown)

Photo
Curry talks with Fitch High School senior Joe Soriana during practice for statewide competition today in Toledo.
Fitch speech coach gets statewide honor
AUSTINTOWN
Soft-spoken and articulate at 56, Joe Curry remembers a time when stuttering plagued his speech.
"It started on the same day I joined choir and discovered girls," said the Fitch High School assistant speech and debate coach.
As a Fitch student at 16, Curry didn't envision himself a future member of the Ohio High School Speech League Hall of Fame. But this weekend, after 31 years of coaching, he'll enter the group's prestigious ranks, which include three former Fitch coaches: Kenneth Carano, William Zorn and John Mazzucco.
The Austintown school district will be one of only two in the state to boast four coaching-staff hall of famers. Inductees must have at least 17 years of coaching experience at the high school level and are nominated by hall of fame members.
Curry will receive the award at the annual state competition in Toledo today where 27 of the team's 45 students will compete.
Though he seems sure and even in his speech now, Curry never received therapy and doesn't consider himself cured of his "situational stutter." When he feels his nerves rise, Curry said he simply slows down and enunciates.
Curry went on to win a few trophies in high school for his performances in original oratory, where he wrote and delivered his own speeches. He called the hobby a creative outlet.
"I think I'm a better coach than I was a speaker," said Curry, who coaches students in humorous and dramatic interpretation.
Head coach Andrea Folsom can attest to that skill.
"He is amazing," she said. "He is the most genuine, generous, giving person."
Curry, an Austintown resident, received his bachelor's degree in communications from Youngstown State University. He is the senior customer service representative for Parker Hannifin in Youngstown and likes switching from working with adults to students each day.
"It's just so nice when you work with different age groups because it's hard to age mentally," he said.
Curry joined his school's debate team after fellow students laughed during one of his book reports.
"It was a pretty good report, I thought, but the entire time the class was just laughing," he said.
Nervous fingers had been drumming against his thigh throughout the presentation, distracting his viewers.
"I love that story," said senior Joe Soriano, one of Curry's students.
Soriano will perform in the humorous interpretation category this weekend. Aside from speech, he is also a member of the band, drama club and soccer team.
"I love Joe," Soriano said. "He's my favorite person who has taught or coached me."
Curry said he enjoys working with students in the humor category and finds daily practices for hours after school rewarding.
"It's like any other adventure," he said. "At times it's really exciting and at times frustrating, but the great moments are every bit worth it."