Brown out: YSU douses Flames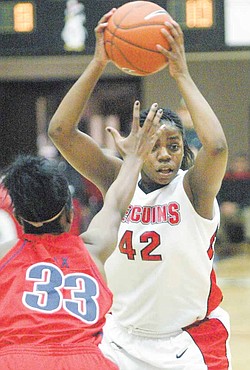 The Vindicator (Youngstown)

Photo
YSU's Brandi Brown gets past UIC's Cree Nix during first half action Thursday.
YSU 72
UIC 58
Next: Youngstown State vs. Loyola, Saturday, 1:05 p.m.
By Jon Moffett
YOUNGSTOWN
Hopefully there was no shortage of ink pens at Youngstown State for Thursday's women's basketball game, because Brandi Brown had the kind of night that can wreak havoc on a stat sheet.
The sophomore sensation scored a career-high 35 points on 11 field goals, and was a perfect 12-of-12 from the free-throw line. She also had 11 rebounds and an assist in a 72-58 win over UIC. It is Brown's 12th double-double and 16th 20-point game this season. It is also the fourth 70-point game for the Penguins (5-23, 3-14 Horizon League). Only two other players in the conference had scored 35 points this season. Once was against the Penguins.
But Brown, who moved into sixth-place in school history for most points in a season with 554, said she was most proud of her night at the free throw line.
"In practice, we have to make 10 [free throws] in a row before we can leave practice sometimes, so I think that helps. It has a lot to do with concentration and focus, and that's something I lack sometimes," she said. "But our hard work did pay off in practice this week on free throws."
Brown was right.
As a team, the Penguins made all 17 of their attempts. And it was the first time a Penguin had made 12 straight free tosses since 1999.
Three other Penguins had nine points as the team took a 18-point lead into the half and had a steady double-digit lead in the second half. Brown said the performance at the line proved the Penguins had worked on their focus in what could be pivotal games as teams prepare for the conference tournament next week.
"I think it says a lot," she said. "It says we're motivated to stay focused and stay on top of the things that we need to do. And to come out and stay focused for the whole 40 minutes as well."
The Flames (14-14, 9-8) had the look of a team that thought it had won just by showing up. The team had 13 turnovers in the first half that led to 17 YSU points. The Penguins had five for six Flame points.
Coach Boldon said this was the best combined effort and execution he's seen out of his squad all season. And watching a team that has squandered its share of leads actually hold on and extinguish a team was refreshing for the first-year coach.
"We've been up a couple times ... And we've had a couple of halftime leads, and even leads late in the second half that have kind of dissipated. And we haven't really closed out games," he said. "... And you lose those games and you wonder if you learned anything. Well, I think tonight you can say yes, we learned something .
"I thought our execution was a lot better, I thought our kids kept their poise and their composure," he added. "And then I thought defensively they got stops. We limited some of our turnover and we got stops."
The Penguins also got a little bit of hope.
If the Penguins win Saturday against Loyola, and Valparaiso, who the Penguins swept this season, loses to Butler, then the Penguins will earn the ninth spot in the conference tournament out of 10 teams.
Kenya Middlebrooks, Liz Hornberger and Tieara Jones each had nine points for the Penguins. But Jones did not assume her usual role at forward for the opening tip. Boldon said Jones violated a team rule and had the The Rayen School graduate sit the bench for the first few minutes.
Monica Touvelle, a Boardman graduate, made her first start in Jones' place, including the opening tip. Touvelle (5-foot-8) said it was the first time she'd ever attempted it.