Austintown seeks road assistance from county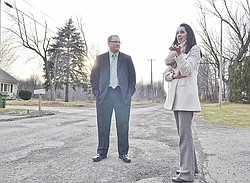 The Vindicator (Youngstown)

Photo
Sherry Froelich discusses the condition of Webb Road in front of her home with Austintown Township Trustee Jim Davis.
By Elise Franco
AUSTINTOWN
Township trustees know money is tight throughout Mahoning County, but they don't think residents should have to drive on roads that are likened to a "military zone in Baghdad."
Board Chairman Jim Davis sent a letter this week to Marilyn Kenner, Mahoning County deputy engineer, expressing concerns about a handful of residential roads that are the county's responsibly to maintain.
Davis said Webb, Wilcox, Fairview and New roads are covered with holes several feet in diameter, chunks of broken pavement and gravel.
"I am forced to travel the treacherous roads each day as I travel to and from work. This is also the case for thousands of other residents," Davis said in the letter. "I can only imagine that this ride each day is a close comparison to driving through a military zone in Baghdad.
"... My car has had some bone-jarring encounters with potholes the size of some small craters."
Mike Rinko, who has lived on Wilcox for eight years, said he can't remember a time when his road wasn't a mess.
"It's been like that continually. After a rain, it just gets washed out because the base is no good in that road," he said. "People say this road has not been paved for 15 years. The other roads get done; why can't ours get done?"
Kenner said Wilcox and Fairview were last resurfaced in 1996.
Rinko said though he drives no more than 5 miles per hour down his street, the potential for an accident is always there.
"It dangerous because someone's coming one direction, and you're coming the other, and you're both trying to avoid potholes," he said.
Davis said he asked Kenner to provide the township with a list of county-maintained roads in Austintown along with the dates those roads were last paved. He also asked for any plans or timelines the engineer's office has for resurfacing any of the roads.
"Several members of the county engineer's office recently received pay increases," he said in his letter to Kenner. "I would love to tell my residents and taxpayers that the employees of the engineer's office are working hard for that pay."
Kenner told The Vindicator that the engineer's officer plans to pave an inch to an inch and a half of asphalt on Wilcox and Fairview roads this spring.
"We met with some of the residents who live on [those roads] at the latter part of last year," she said. "We did let them know that we do have plans to do something with the road."
Kenner said the paving will cost about $100,000.
Davis said that as of Thursday afternoon, he hadn't received a response to his letter or any information regarding repaving the roads.
Austintown Trustee David Diztler said what those streets really need is a complete overhaul.
Ditzler said roads such as Wilcox, Fairview and Webb need to be refilled, resurfaced and curbed.
"The problem is, they're just going to lay blacktop over the holes, and we'll be right back here in three more years," he said. "They've known of the problem, but the money just hasn't been available to do the project properly."
Kenner said the project that Ditzler spoke of would cost the county about $2 million, and she has no timeline as to when it will become a reality.
"We have 483 miles of county road, and we have a lot of roads in the same or worse condition," she said. "They do have a legitimate complaint, and we do know we have to give attention to that."
Kenner said the engineer's office plans this year to resurface Four Mile Run Road, Lanterman Road to Interstate 680 and Ohltown Road from Silica to Turner roads. She said those projects will cost a total of $185,000.
Ditzler said though any paving in Austintown is positive, trustees and neighbors want to see action where action is most needed.
"From a pure paving standpoint, [those roads] aren't the worse that needed done," he said.