---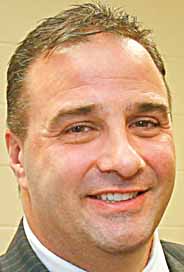 Photo
Austintown Superintendent Vince Colaluca
By Kristine Gill
AUSTINTOWN
Asbestos abatement for the former Austintown Middle School building will cost $225,000, a quarter of the expected price, should the district opt to improve the structure.
"It isn't as bad as we thought it was," Mal Culp, supervisor of facilities and operations for the district, said of the asbestos.
The material, which is a carcinogen, was found mainly in floor and ceiling tiles in the east-wing addition, which opened in 1954.
Superintendent Vince Colaluca said recent talk of a racetrack and casino in the Mahoning Valley could change the game for the district, which has struggled to sell the building at 5800 Mahoning Ave.
"We feel if that comes through, our property at Mahoning Avenue will increase in value," he said.
Vacant since 2005, the district has twice failed to sell the building at public auction, first in 2005 and most recently in September 2010.
Colaluca said the school board was looking to keep its options open when it asked for an estimate of asbestos removal as demolishing the building could increase property value. An estimate for abatement done last summer said the district could pay as much as $1 million for the service.
Culp had eight companies bid for the project, and EA Group in Mentor had the lowest bid.
Abatement is necessary whether the building is demolished or remodeled, but a more accurate demolition estimate can now be made for interested buyers. Colaluca said the board will have to approve such a measure.
The board turned down an offer for the building in September for $600,000, after a $2 million starting point at the auction went without bids.
Colaluca said the district is in no rush to sell the building because the state requires that money made in the sale go to the district's permanent improvement fund.
That money can only be used on projects that will last more than five years so immediate expenses such as salaries would not be affected.