---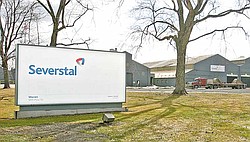 Photo
RG Steel, a newly formed subsidiary of The Renco Group, purchased the Severstal steel mill in Warren. Renco lost the mill in bankruptcy five years ago.
By Ed Runyan
WARREN
United Steelworkers of America leaders and Mayor Michael O'Brien celebrated the news Wednesday that Warren's Severstal steel mill has been sold back to The Renco Group of New York five years after Renco lost the mill in bankruptcy.
"Ira Rennert is a guy who knows the steel industry in and out, and we have faith in his ability to run this company," Gary Steinbeck, a staff representative for the union, said of the owner of The Renco Group.
Renco has named the new subsidiary that will run the mill RG Steel, which will be based at Sparrows Point, Md. A Renco spokesperson said announcements will be forthcoming after the sale has closed in about a month regarding future investment and employment plans at the mill.
"It's great news for our members and their families and the city of Warren," Steinbeck said during a press conference at the Local 1375 union hall on North Park Avenue.
Steinbeck and others said they are grateful to Russia-based OAO Severstal, the company that bought the former WCI Steel in 2008, because Severstal "paid the bills," enabling the mill to reopen a year ago after being idled for a year.
Today, all but 28 of the union's membership of 981 workers is back on the job, and the mill is running at 85 percent of capacity. The mill has an additional 100 management employees.
But because of the $1.2 billion sale and because leaders think the future of the steel industry is bright, union leaders are optimistic about the mill's future.
"Trumbull steel hangs in there and lives for another day," Ed Machingo, president of Local 1375 said of the mill, one of the few left in what was once called the "Steel Valley."
Steinbeck and Machingo say they expect union members to approve a new collective-bargaining agreement with Renco within about four weeks. It is a "pattern agreement — the industry standard," Machingo said.
Having a multiyear agreement will be a big boost to members after more than two years of contract extensions and layoffs, Steinbeck said.
Having a new agreement in place also might cause some members to retire, leaving the possibility that the company might need to hire employees, Steinbeck said.
O'Brien and Trumbull County Commissioner Frank Fuda were among those who said the sale will help stabilize the mill and the community.
"In speaking with the general manager, everything will remain the same with the employees, and it will also provide stability to the city," O'Brien said. "They are the largest water customer in the city — $1.2 million dollars worth per year."
In the deal, Renco also acquires the Sparrows Point mill in Baltimore, Md., and Severstal Wheeling and Wheeling Corrugating Co. in West Virginia, plus 50 percent ownership of Mountain State Carbon, a coke-making facility in Follansbee, W.Va., and Oak Coatings Co. in Yorkville, Ohio, which is near Wheeling.
The sale of the Warren, Wheeling and Sparrow's Point mills to Renco was first rumored in August 2010.
The Warren mill's blast furnace, basic-oxygen furnace, continuous caster and hot-strip mill are running, but its galvanizing, pickle and tandem operations are idle, Severstal spokeswoman Bette Kovach said.
Steel in 48-inch "hot bands" typically leave from the Warren mill and go directly to a customer or to one of Severstal's other mills for further processing, she said.
The purchase will make RG Steel the fourth-largest flat-rolled steel producer in the United States, Renco said.
"The formation of RG Steel will create a dynamic service-oriented company with strategically located facilities," said Ari Rennert, president of The Renco Group Inc.
The Renco Group is a private, family-owned investment-holding company founded in 1975 by Ira L. Rennert.
Severstal, in a press release, said it will receive $125 million in cash in the deal, a $100 million secured note, and repayment of $317 million of third-party debt at closing.
Renco also will assume various Severstal financial liabilities, including employee-related and environmental liabilities totaling $650 million.
"The sale of Warren, Wheeling and Sparrows Point marks a strategic refocusing of our North American operations," said Sergei Kuznetsov, CEO of Severstal International.
"The sale of these assets will enable Severstal North America to evolve into a stronger and more-focused organization that is better able to serve our North American customers," he said.
U.S. Sen. Sherrod Brown, D-Ohio, said he was encouraged by news of the sale. "I was also glad to see that RG Steel made an effort to work with the United Steelworkers Local to maintain collective-bargaining rights as part of the deal. Steel has and always will play an important role in Ohio's economy and our manufacturing heritage, and I'm hopeful that RG Steel will continue to put Ohio workers' steel expertise to good use at all of these mills."
The Renco Group has a range of businesses, including mining and mineral recovery, defense equipment, fabrication of metal products and automotive supply. The company has more than $5 billion in revenues and 15,000 employees worldwide.
The Renco Group first purchased the former WCI mill in 1988 from LTV and maintained ownership until 2006, when it was turned over to creditors in bankruptcy.
Severstal, Russia's largest steelmaker, bought the mill in 2008 as part of a $2.8 billion acquisition of North American holdings.
The Warren plant — like many of Severstal's North American facilities — was idled for much of 2009 during the national economic slowdown. It reopened in March 2010.