Pavlik likely to meet Lopez in May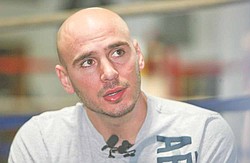 The Vindicator (Youngstown)

Photo
Boxer Kelly Pavlik talks to the media about his past couple of months in rehab and his future at Jack Loew's Southside Boxing Club.
Pavlik speaks to local media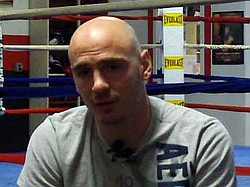 Video
Kelly Pavlik met with members of the local media at South Side Boxing Club on Tuesday, Feb. 22. This is that meeting in its entirety.
By Joe Scalzo
YOUNGSTOWN
Kelly Pavlik's handlers have approved a proposed super middleweight fight with Alfonso Lopez on the undercard of the May 7 Manny Pacquiao-Shane Mosley bout at the MGM Grand in Las Vegas, Pavlik's trainer, Jack Loew, confirmed.
Pavlik (36-2, 32 KOs) has not fought since losing his middleweight titles to Sergio Martinez last April. Since moving up in weight, he's been named the No. 1 contender at super middleweight by the WBC.
Lopez (21-0, 16 KOs), who hails from Corpus Christi, Texas, has gone 11-0 over the past two years but has not faced anyone of Pavlik's caliber. Pavlik told reporters last week that he wanted to face a "durable" and "dangerous" fighter in his first return bout.
"It's gonna be somebody who's a rugged fighter with a good record," he said. "Somebody who can make it interesting.
"If they put me in there against a tomato can, that's gonna be bad. That's something everyone [critics] can feed off of."
Pavlik has been working out for the past few weeks and will officially start training camp around March 12.
A win over Lopez could set up a date with WBC super middleweight champion Carl Froch, who told reporters this week he thought Pavlik "would be easy to beat."
"Pavlik was big and strong at his weight but he would be out of his depth at super middleweight," Froch said.
Pavlik, for his part, called Froch a "very beatable guy" when he spoke to reporters last week.