Austintown schools get $2.8M in Delphi furniture for $15K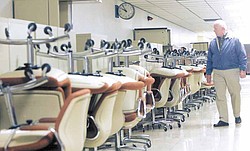 Photo
Mal Culp, supervisor of facilities and operations for the Austintown school district, surveys a stash of furniture at Fitch High School purchased from Delphi Corp. at a public auction. The desks, tables and chairs will be swapped with existing furniture and used in new buildings to be finished in 2013.

Photo
A worker from Carney-McNicholas Inc., a moving company in Austintown, unloads a fi ling cabinet from one of many semi trucks used to deliver the former Delphi Corp. furniture. It will take more than 40 truckloads to deliver all 4,500 pieces of furniture to Austintown.
By Kristine Gill
Austintown
School administrators say their purchase of excess furniture from a vacant Delphi Packard building was more like a donation from the business.
Delphi sold $2.8 million worth of desks and other office equipment for just $15,000 at a public auction.
"According to our architects, this is nothing we could ever buy with money from the state," said Superintendent Vince Colaluca, who was impressed at how much money the district saved in the deal.
The Ohio School Facilities Commission, which oversees construction of all public school buildings in the state, gave its informal approval to the purchase. Dennis Kaplan, OSFC's project administrator for Austintown, said he doesn't see many districts opting for used furniture.
"Why not, if you can save the money that way? That helps not having to buy the stuff for administrative offices. That money can be used to offset issues with the site," Kaplan said.
The district is building two new structures. One will house third-, fourth- and fifth-graders, and the other will be for kindergarten through second grade using funds from the commission. They will be operational in 2013.
Austintown originally bid $11,000 for select items in Delphi's inventory. When board members toured the vacant building and saw what else was available, they suggested offering a bid for the lot. Delphi rejected the only other bid it received, which was for $1,000 for the entire inventory that includes about 4,500 pieces.
Rachelle Valdez, director of communications for Delphi Corp., said a separate company facilitated the auction. Furniture from the former engineering building in Warren was sold. Valdez said the furniture was originally purchased in the 1990s and had not been used for the last year, during which the building was vacant.
The $11,000 worth of furniture would have replaced existing pieces in Fitch High School and Austintown Middle School. Now Colaluca said the district will be able to furnish parts of the two new buildings scheduled to begin construction in June. Extra furniture will serve as a figurative cushion and could be sold to other districts in need.
It will take about 40 truckloads to deliver the furniture to Austintown, the last of which will arrive Monday. Carney-McNicholas Inc., a commercial moving company based in Austintown, is shipping the goods for $46,000.
Mal Culp, supervisor of facilities and operations for the district, said that even with shipping included, the district is far below budget in the $2.5 million set aside for furniture and equipment in the two new buildings.
Culp, a senior engineer for Delphi from 1969 to 2008, contacted the company when he was looking to buy partitions for tutoring classrooms and later learned of the public auction.
Items that will furnish the new buildings will sit in storage at the now vacant Davis Elementary School building at 4302 Maple Ave. Colaluca said Austintown police have increased security at the site, which is outfitted with audio and video surveillance.
Among that supply are about 300 corner desks with built-in bookshelves and filing cabinets, mailbox units, rolling tables and office supplies including paper shredders. Culp said old furniture will be sold or taken to scrapyards.
More like this from vindy.com