Mooney and Struthers ready for rematch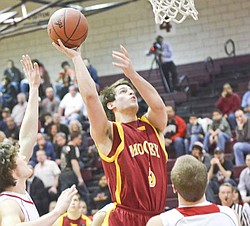 Photo
Cardinal Mooney's Kevin McGuire (5) scores over Crestwood's Clay Walters (23) during a Division II tournament basketball game Wednesday at Boardman High School. The Cardinals held on to defeat the Red Devils, 61-55.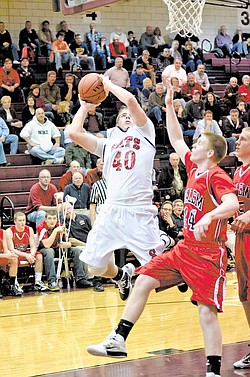 Photo
Salem's Anthony Shivers (44) tries to keep Struthers' Adam Ryczaj (40) from scoring during their Division II tournament basketball game Wednesday at Boardman. The Wildcats defeated the Quakers, 65-46.
By Joe Scalzo
BOARDMAN
Last March, after the Struthers High boys basketball team was eliminated by Mooney in the district semifinals, the Wildcats' student section joined up with Poland to watch the Bulldogs beat the Cardinals in the district final.
Mooney coach Chris Kohl didn't want to talk about that on Wednesday but in case you're wondering, yes, the Cardinals remember.
"We want to play Struthers," Kohl said after Mooney's 61-55 win over Crestwood in a Division II sectional final at Boardman High School. "We'll be ready to go."
Both student sections are, too. Mooney's fans started chanting "We want Struthers" well before Wednesday's opener was over, and Struthers' fans responded in kind more than an hour later, starting the chants in the quarter of the Wildcats' 65-46 win over Salem.
"Where is Mooney?" was followed by "See you Monday!" And after chanting "Season's over!" to Crestwood, the Wildcat fans tacked on "So is Mooney's!"
"We took that loss to heart," Struthers coach Joe Savko said of the 60-51 loss to Mooney. "These kids were in the weight room the next day getting ready for this game."
When told the Cardinals were still a little upset about his fans sitting with the Poland students, Savko chose his words carefully, saying only, "I'm sure they remember that."
Monday's matchup — which starts at 7 in case you're planning to come — wasn't a foregone conclusion as Crestwood (15-6) gave the Cardinals a scare and Salem gave Struthers all it could handle for the first half.
Danny Reese scored 22 points with four assists and four steals to lead Mooney, which led by 10 with two minutes left and seemed to have the game in hand. But Crestwood cut its deficit to five with 41 seconds remaining and had the ball. But a costly turnover cost the Red Devils a chance to get closer and the Cardinals split six free throws in the final 25 seconds to close it out.
"It's hard to simulate the kind of speed and athleticism Mooney has," said Crestwood coach Bob Lieberth, who led his team to its first league title in 11 years. "They have the athletes to make a run at this thing.
"They're a tough first [tournament game] matchup."
Doug Caputo added 11 points and Ryan Farragher added 10 with seven rebounds for the Cardinals, who had 14 assists to just seven turnovers.
"We use the analogy of climbing the ladder," Kohl said. "We've climbed two steps and now we have the third one."
In the nightcap, Nate Jacubec scored 19 points and his younger brother Jake added 16 points and six assists for the Wildcats (19-2), who outscored Salem 36-22 in the second half to pull away.
It wasn't Struthers' best effort of the season, but Savko knew after two 20-point wins against the Quakers this winter, his team would have a hard time getting up for Round 3.
"They're high school kids," he said. "Sometimes that bites you in the butt and fortunately that didn't happen tonight."
Ryan Bush scored 17 points to lead Salem (10-12), which trailed 17-7 after one quarter only to battle back in the second to trail 29-24 at halftime. But the Quakers didn't score for the first four minutes of the third quarter — shooting 0 for 3 and committing four turnovers over that span — as Struthers opened a 37-24 lead.
"We needed to play perfect tonight to take them," said Salem coach Rich Hart. "At least we gave them a little scare there."