Students read more when given a choice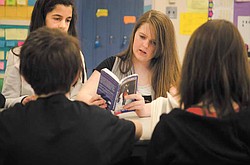 Photo
Jessica Weetman, 12, looks through her copy of "Freak the Mighty," by Rodman Philbrick during a literature circle Tuesday afternoon. Students say they like having the option to choose what they read in class.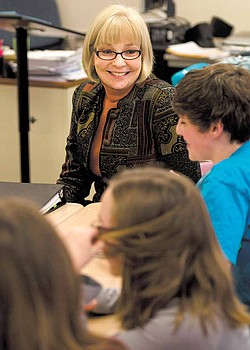 Photo
Eva Sullivan chats with students during class Tuesday. The literary circles students participate in spark more interest in reading, Poland teachers have found.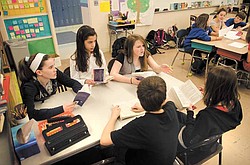 Photo
At McKinley Elementary in Poland, Eva Sullivan's sixth-grade students meet in groups where they are given a choice of what to read and discuss among peers. Sullivan said the practice increases the number of books students read each year.
By Karl Henkel
POLAND
"To Kill a Mockingbird." "Of Mice and Men." "Catcher in the Rye."
All are old reads most remember from junior high or high school.
Students at Poland schools may or may not read them today, depending on what intrigues them.
At Poland, students choose to read what interests them, and teachers are adapting to fit what engages students.
"It's not a case where they never read anything as a class," said Ed Kempers, principal at McKinley Elementary, 7 Elm St. "All I know is, the kids in our school read more than ever."
Sue Van Meter, chairwoman of the English department at Poland Seminary High School, says it all begins at the elementary level with the introduction of literature circles, where students, rather than all reading the same book as a class, choose what they want to read — in smaller groups — from a selection.
Literature circles are groups of four or five students who read and then discuss books based on their interests.
"It's a way to express ourselves and read what we want to read," said sixth-grader Jessica Weetman, 12, whose group recently read "Freak the Mighty" by Rodman Philbrick. "We help each other understand the book and what it really meant."
McKinley sixth-grade language-arts teacher Eva Sullivan, who has used literature circles in her class for more than 10 years, said the number of books read this year has been off the charts; her students have read more than 1,000 so far.
Sullivan uses the original literature circles method developed by Harvey Daniels, an author and consultant on literacy education, while some others use the jigsaw method, where students in a group are assigned different books with similar themes.
When in groups, students are given specific roles, such as the questioner, the summarizer and the connector, so there's little opportunity to slack off.
"They get together, they read, they comment, and they're designated little jobs where they take turns," sixth-grade teacher Melanie Kutlick said. "They're getting a chance to share what they've read."
The strategy isn't just for the elementary levels, either, as it continues through the middle- and high-school levels, where Van Meter said it's a mixture of choice, relatability and flexibility when it comes to students' reading material.
For instance, those at the seventh-, eighth- and ninthgrade levels are more apt to read young-adult literature as opposed to classics, at least initially, Van Meter said. She also said it's not just about what the students are reading, but how they process it.
"It's formulating the discussion," Van Meter said. "Students first have to understand the literal level — what happened and when it happened and so on — but we don't really focus on it past the point of knowing that the students understand that."
The strategy has been a success, judging by the reading scores on last year's Ohio Graduation Tests, where 10th- and 11th- graders scored well above the state average.
But how does altering reading material translate to success on a completely standardized test?
"There are certain things that students need to know for the test," Van Meter said. "They need to know what a simile is, and they need to know how to apply [it]. The teacher can choose any literary work he or she wants to use to apply that process."
More like this from vindy.com