Like it or not, Slocum will return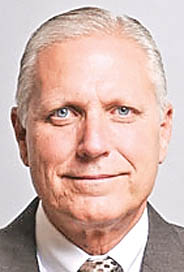 Photo
Jerry Slocum, YSU men's basketball coach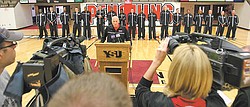 Photo
Jerry Slocum addresses the media during Youngstown State's preseason press conference. Despite a 20-loss season, Slocum will be retained for the final year of his contract by the university.
After finishing last for the fifth time in 10 seasons in the Horizon League, it's easy to view coaching the YSU men's basketball team as a no-win situation.
That's ridiculous. A 10-win situation, maybe. Five at the worst.
Since joining the Horizon League in 2001-02, the Penguins have averaged four conference wins each year and eight wins overall. It's been a little better under Jerry Slocum than John Robic, just as the weather in February was a little better than January.
Slocum has inched the program forward in his six-year tenure, making YSU more competitive and more respected around the league. But he's also failed to produce even one winning season and, over the past two winters, has won a combined four league games.
The 2009-10 season was particularly disappointing since YSU returned a strong core of players and finished just 2-16 in the league. But this winter has had its share of frustrations as the Penguins started 4-1, then lost 17 of the next 21 games, with two of those wins coming against NAIA teams.
Slocum has an option year left on his contract and YSU has every intention of picking it up. Given the school's current financial commitment to the sport — worst in the league, lower than Akron spends on women's basketball — this is understandable.
YSU has plenty working against its basketball program — a poor recruiting area, a weak tradition and a 10-member conference where only two other schools have football, and it's non-scholarship football — and Slocum has done a commendable job fielding a competitive team in the country's 11th-ranked basketball conference. For proof, all you have to do is look at Saturday's overtime loss to Milwaukee, where the Penguins took a team playing for the tournament's top seed to the brink.
But it's also hard to argue that Slocum is the school's long-term answer.
He makes no effort to build relationships with fans or boosters — something Robic, as prickly as he was, at least tried to do — and he's even worse with the media. He's particularly bad after losses, where his press conferences often last less than 90 seconds and he sneers at questions he doesn't like.
He's also struggled to keep players. Six have left in the last 12 months, with another, Devonte Maymon, likely to leave after this season. If you make the argument that most of them needed to go — something I've heard — well, who recruited them in the first place?
At 59, Slocum isn't going to change. He's a solid game day coach who won't get outcoached and won't embarrass the university. He's not a rising star but he's not a fallen one, either.
Athletic director Ron Strollo isn't satisfied with winning 25 percent of the Horizon League games every year but he also doesn't want to make a change just for change's sake.
The school has increased its financial commitment to football in the past year and, with a budget crisis looming, there's nothing extra for basketball right now. Maybe there will be in a year or two, particularly if the football team starts winning big again, but not now.
More surprising, there doesn't seem to be any outrage from fans, boosters or school officials about the sad state of the basketball program.
Until enough people speak up and the school decides to make a strong financial commitment to fielding a competitive basketball team, the Penguins will continue to pay rent in the Horizon League's basement.
But hey, the news isn't all bad. After all, spring football starts in three weeks.
Joe Scalzo covers YSU men's basketball for The Vindicator. Write to him at scalzo@vindy.com.