Gas leak forces evacuation in Boardman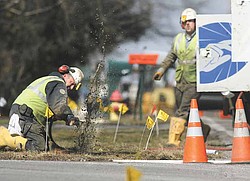 Photo
Dominion East Ohio workers and safety officials hustle to locate and shut off gas valves Tuesday afternoon on Hitchcock Road in Boardman.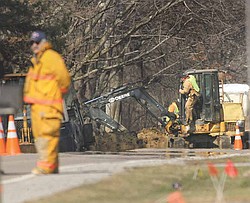 Photo
Gas was disrupted to 90 homes Tuesday afternoon when a subcontractor for Dominion East Ohio hit a pipe with a backhoe and caused a leak. Service was returned to those homes Tuesday evening.
By Ashley Luthern
aluthern@vindy.com
BOARDMAN
Kim Dundics has lived on Hitchcock Road for more than 20 years, but Tuesday was the first time she had to be evacuated from her home.
"When they're doing stuff like this (excavating), it happens. You always hope it doesn't, but it happens," she said.
Dundics lived in one of the 20 residences evacuated on Hitchcock Road Tuesday afternoon after a contractor's backhoe struck a gas pipeline causing a leak. The contractor was hired by Dominion East Ohio to install a new pipeline and a Dominion supervisor was there, as well, said Capt. Brian Barber of the Boardman fire department.
Ninety homes lost gas in the neighborhood of Hitchcock, Squirrel Hill and Deer Run Drive, but service returned Tuesday evening, said Neil Durbin, spokesman for Dominion East Ohio.
Dominion employees were on the scene to help repair connections, and the only delay was waiting for homeowners to return, he said.
"We have to go into every individual home and relight every individual appliance. It's not like electric where you flip a switch," Durbin said. "We'll be out there as long as necessary to get the job done."
Safety officials worked throughout Tuesday afternoon after the leak to shut off five gas valves that run in a loop.
Around 2 p.m. Dundics walked down Hitchcock Road to Boardman Plaza on U.S. Route 224 where transportation was waiting to take her and other evacuees to the Boardman United Methodist Church on Market Street.
"We weren't allowed to drive our cars as a precaution," Dundics said, adding firefighters warned the vehicle's ignition would ignite the gas.
Shortly after that, however, the Red Cross of the Mahoning Valley, which was organizing the shelter, was told that residents were able to return home.
Boardman firefighters received the first call about the gas leak at 12:42 p.m. Tuesday.
There was no explosion or fire, but a loud release of gas led to various reports of a blast at the site, Barber said.
The backhoe struck a 4-inch pipe that connected to an 8-inch pipe and released gas at a "high pressure," Barber said.
Officials also monitored the air quality, he added.
"As far as the fire department's concerned, this was an accident," Barber said.