Rain, snowmelt deluge Valley
Flooding in the Mahoning Valley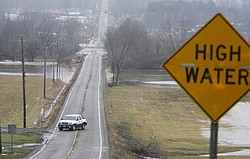 Gallery
Staff report
A much-welcomed winter thaw brought another set of problems to the Mahoning Valley in the guise of flooding.
After Sunday night storms dumped more than 3 inches of rain in some spots and Monday morning temperatures hit the 50s to melt snow, water levels began to rise, especially in low-lying areas.
Floodwaters disrupted travel in several areas, and in Trumbull County, those displaced because of floods can seek emergency shelter and food at the Niles Wellness Center, 213 Sharkey Drive, located off state Route 169 across from RTI. More information is available at the Red Cross, 661 Mahon- ing Ave., Warren, or by calling 330-392-2551.
The shelter is operating with the assistance of Niles Emergency Management Agency and the American Red Cross.
The Ohio Department of Transportation closed roads in Mahoning, Trumbull and Columbiana counties because of flooding, including parts of state Route 165, state Route 46, state Route 558 at Franklin Square and state Route 154 at Elkton.
State Route 7 (Market Street) was reduced to one lane just north of the Ohio Turnpike. Flooding complaints rolled in from Beaver and Boardman townships.
In Lowellville, state Route 289 was closed periodically because of high water. The Mahoning River was over its banks, near the sewage plant and a foundry, both on Water Street.
In Poland village, residents complained of flooding on South Main Street near the library and Green Meadow Place, a road that is parallel to Yellow Creek. In the township, the Canterbury development off Dobbins Road saw flooding that kept some residents home from work.
Storm-water problems hit every part of Niles, creating the worst flooding since 2004, said Randy Fabrizio, water/wastewater superintendent.
Many of the city's older neighborhoods experienced flooded basements as a result of sanitary sewers that were infiltrated by storm water, Fabrizio said.
The problem was serious enough to close down a part of state Route 46 on the south end of town throughout the day.
R.J. Markowitz, who lives with his father, Ron, at 320 Washington St., estimates that 15 or more of his neighbors in a three-block area had basement flooding early Monday.
In the Markowitz home, the water backed up in the sanitary sewer and was 3 feet deep at 6 a.m. Markowitz and his father had removed all but about 6 inches by about 2 p.m. with pumps, but they estimate the damage at $10,000.
"The entire city basically got flooded today," Fabrizio said, adding that one big step the city has taken to reduce that type of flooding is starting construction on a $3.2 million, 500,000-gallon detention tank on Fairlawn Avenue.
Markowitz said residents of Washington Street complained to city officials about the problem six months ago.
Fabrizio said the city did some testing after residents complained and separated one section of sanitary sewer and storm sewer.
Other problems may exist that the city can't control, Fabrizio said, such as roots growing into the sewer laterals on the homeowners' property, downspouts that direct storm water into the sanitary sewers and residential floor drains that empty into sanitary sewers.
In Girard, River and Front streets are in the flood area near the Mahoning River, said Mayor James Melfi.
"But whether one home or 100 are affected, it still is a burden on the people," Melfi said, adding the city's sewer system was "simply overwhelmed" by the amount of melting snow and the downpour. Homes in Girard's Chrysann Drive neighborhood also had basement flooding.
In Hubbard, Route 62 North (North Main Street) and into Hubbard Township was closed Monday morning because of high water but was open in the afternoon.
In Liberty, flooding closed the Belmont Avenue fire station. Chief Mike Durkin said the station will be closed about a week. He said water overflowed from a culvert next to the station, and about 8 inches of water along with sewage came into the station.
"Some personal belongings, carpeting and furniture were damaged," he said, and fire gear got wet.
All fire crews will operate out of the Logan Way station.
Durkin said this is third time the station has been flooded in recent years; other incidents occurred in 2003 and 2004.
Pat Ungaro, township administrator, said the township received multiple calls about flooded basements. He said the streets between Belmont and Logan avenues were the hardest hit.
Ungaro said the township plans two projects this summer to help curb flooding in the Goldie Road and Mansell Drive areas.
In Weathersfield Township, state Route 46 between McKees Lane and Salt Springs Road was closed, said David Pugh, township administrator.
More like this from vindy.com