Judge: Oakhill lawyer won't be on taxpayer dole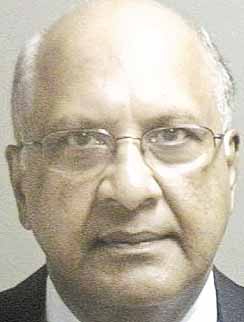 Photo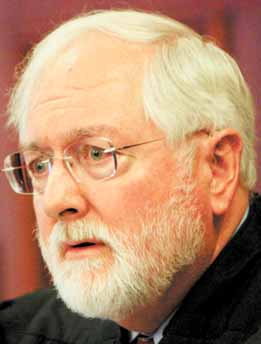 Photo
Visiting Mahoning County Common Pleas Court Judge William H. Wolff Jr. from Kettering
In more Oakhill coverage ...
YOUNGSTOWN
As things stand now, the defense lawyer for John Zachariah in the Oakhill Renaissance Place criminal-conspiracy case won't be paid from Mahoning County funds, a judge has ruled.
Assuming he has the authority to appoint Zachariah's present lawyer at county expense, visiting Judge William H. Wolff Jr. said he made that decision because he doesn't have enough information to determine whether Zachariah's conduct was "a good-faith, well-intended attempt to perform official duties or responsibilities."
In his Monday order, however, the judge said that could change as the case unfolds.
In a motion filed two weeks ago, Zachariah's lawyer, Roger M. Synenberg, asked that Synenberg & Associates LLC of Cleveland be appointed to represent Zachariah at taxpayer expense.
Synenberg's motion argued that Zachariah, former Mahoning County Job and Family Services director, is entitled to a county-paid lawyer because the criminal charges against Zachariah stemmed from "the well-intended actions he performed in his official capacity as director of JFS, rather than for his own benefit."
Mahoning County Prosecutor Paul J. Gains wrote to Synenberg on Jan. 5 that Zachariah, 65, of Chagrin Falls, isn't entitled to county-paid legal counsel because the charges against him are criminal.
"Although the good faith expressed in your letter may constitute a legal defense, justification or mitigation to the criminal charges, it does not justify the expenditure of public funds to defend allegedly criminal conduct on the part of your client," Gains wrote.
With 56,000 pages of evidence supplied by the special prosecutors and a potential three-month trial, Zachariah said through his lawyer that he cannot afford the $325 hourly fee for the Synenberg firm, which has represented him since April 2008.
If Zachariah is claiming indigence, he could seek a court-appointed lawyer under a local rule of criminal procedure that allows judges to appoint lawyers for defendants who can't afford them, Judge Wolff said. Those lawyers are paid $60 an hour for time in court and $50 an hour for out-of-court work, according to Atty. David Betras.
Zachariah is among eight defendants indicted on accusations of conspiring to impede the move of JFS from Cafaro Co.-owned rented quarters to Oakhill Renaissance Place.
Oakhill is the former Forum Health Southside Medical Center, which the county bought in 2006. JFS moved to Oakhill in 2007.
Zachariah is charged with engaging in a pattern of corrupt activity, bribery, tampering with records, two counts of conspiracy and three counts of perjury.
Judge Wolff also issued an order Monday defining topics for a 1 p.m. March 31 status conference in the Oakhill criminal case as follows: the status of exchange of evidence between the prosecution and defense; the viability of the currently scheduled June 6 trial date; establishment of a new trial date, if necessary; the expected length of the trial; motions the prosecution and defense expect to file; establishment of new evidence exchange and motion-filing deadlines; and establishment of a hearing date for the Cafaro Co. motion to dismiss the indictment and for other motions.
Judge Wolff added the defendants need not attend that conference.