HAVING A BALL: East High students to participate in Quinceañera celebration
Quinceanera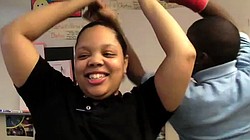 Video
East High School Spanish students are preparing for the school's 4th annual Quinceanera Ball.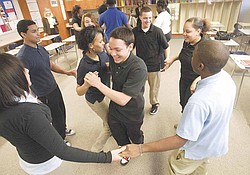 The Vindicator (Youngstown)

Photo
East High School students practice dancing in preparation for Friday's Quinceanera. In the center of the circle are juniors Miguel Cintron and Michelle Lozada.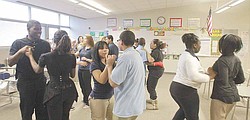 The Vindicator (Youngstown)

Photo
East High School students cut a rug in a classroom in preparation for Friday's Quinceanera at the school. A Quinceanera celebrates a girl's maturity into a young lady.
By Denise Dick
YOUNGSTOWN
Brother and sister Vianessa and Luis Rosario spin, turn and sway their hips to the music.
Nearby, Miguel Cintron and Michelle Lozada whirl and wriggle to the merengue.
They and other East High School students are preparing for Friday's Quinceañera Ball, a coming-of-age celebration for girls.
"It's a celebration for when a young lady becomes an adult," said senior Barraya Hickson, 18, Spanish Club president.
Although the celebration is traditionally observed when a girl turns 15, the school celebration is open to all East students.
Friday marks the fourth year for the celebration at the school. Students don formal attire, dine on a meal catered by the school cafeteria, observe the customs and dance.
"It's formal, but we have fun," Barraya said.
Margoth Matteo, Spanish teacher and a native of the Dominican Republic, said students enjoy their event, but there's an educational aspect too.
"It's part of the standards of teaching the culture," Matteo said.
She expects about 100 students at the Quinceañera. It's presented by the Spanish Club and Principal Holly Seimetz and will be in the school cafeteria.
A Quinceañera, or Fiesta De Quince A ±os, is similar to a girl's Sweet 16 party in the United States.
Traditionally, the girl who is turning 15 wears a white gown. Her father helps her change from flat shoes to heels; her mother places a crown upon her head, and she gives her last doll to a younger sister. She dances with her father or a father figure.
In the past, the Spanish Club picked one girl to fill those tasks. This year, though, there are three.
Barraya said they couldn't pick just one, so the three chosen will each play a part.
To be eligible, the girls had to be taking Spanish, have taken it in the past or be Spanish speakers. Applicants must have good attendance, a good GPA and write an essay.
Sophomore Miesha Starkey, 16, will change from flat to heeled shoes.
That symbolizes her maturing "from a child to a young adult," said senior Jonathan Borrero, 18.
Junior Michelle Lozada, 16, will be crowned with a tiara, and Sophomore Nayomy Reyes, 16, will give a doll to her younger sister.
Meisha will dance with her older brother; Michelle with her boyfriend's father; and Nayomy with her stepfather.
They're a little nervous about being the center of attention that night.
Sophomores Luis, 16, and Vianessa, say the work to learn the waltz and the meringue started a couple of weeks ago. The students practiced twice a week after school.
Michelle and Miguel, 17, and a junior, dance the salsa and the meringue together outside of school, so it didn't take them too long to hone their technique.
Miguel though, said the turns were a little challenging at first.
Matteo said the event demands a lot of work, but she does it for the kids.
"All of the girls get to be little princesses for the night," she said.
More like this from vindy.com