City gets state funds to demolish theater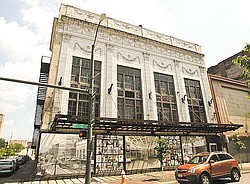 Photo
The former Paramount Theatre
YOUNGSTOWN
The city is receiving $803,490 from the state to cleanup and demolish the former Paramount Theatre on West Federal Street downtown.
"It's one of the last remaining eyesores in the central business district," said Mayor Jay Williams. "It's a great project."
The Clean Ohio Revitalization Fund committee approved $27 million in funding Wednesday for this project and 16 others throughout the state. Williams is a member of the committee, but doesn't vote on Youngstown projects.
The grants are contingent on State Controlling Board approval.
After asbestos and other hazardous materials are removed from the former theater, the building will be demolished except for its facade, Williams said. The facade will be restored to its historic appearance.
The building is on the corner of West Federal and North Hazel streets.
Once the site is cleaned up and the building taken down, the space will be a parking lot for those coming to pay water and wastewater bills at city hall, Williams said. It also will be used as an open-air market, a public gathering place and an amphitheater, he said.
The work will be finished in 2012, Williams said.
The city purchased the dilapidated building, vacant for about 30 years, in September 2010 for $80,000 from Louis Frangos of Cleveland, who owns several downtown structures.
Members of city council initially were hesitant to purchase the building, but agreed to buy it. At the time, Williams said he was confident the city would receive money from Clean Ohio to clean-up and demolish the former theater.
Frangos bought the Paramount with Grande Venues of Wheaton, Ill., as his minority partner, for $79,900 in April 2006.
Frangos said he spent about $200,000 on consultants and restoration specialists to see if anything could be done to restore the 9,510-square-foot building. But Frangos said restoration would be between $9 million and $12 million, making it cost-prohibitive.