1.3 million seek vote on SB 5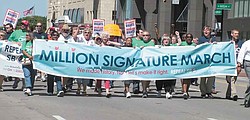 The Vindicator

Photo
Opponents of Senate Bill 5 lead a parade through downtown Columbus to the Secretary of State's Office on Wednesday to turn in nearly 1.3 million petition signatures seeking to repeal Ohio's controversial collective bargaining law.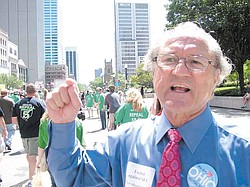 The Vindicator

Photo
State Rep. Bob Hagan, a Democrat from Youngstown, makes a point as he marches with other opponents of Senate Bill 5 in front of the Ohio Statehouse on Wednesday. Senate Bill 5 likely will be Gov. John Kasich's "Waterloo," Hagan said.
By Marc Kovac
COLUMBUS
Mahoning County Sheriff's Sgt. T.J. Assion marched through downtown Columbus Wednesday to oppose a collective-bargaining law signed earlier this year by Gov. John Kasich.
He joined thousands of officers, firefighters, teachers and other union members who paraded past the Statehouse en route to the Secretary of State's Office to drop off nearly 1.3 million petition signatures aimed at repealing Senate Bill 5.
"We are public servants, we are public employees [and] the governor has trampled all over our rights — the governor and his cronies — with this new law commonly referred to as SB5," said Assion, president of the Fraternal Order of Police Lodge 141. "We've collected ... over 1 million signatures on petitions, and it's time to turn those in and show the governor that he's not as popular as he thinks he is, he's not as smart as he thinks he is and that he's dead wrong."
The event Wednesday included thousands of chanting walkers, dozens of motorcycle riders, a vintage fire truck and a semi trailer load of petitions that were turned in to Secretary of State Jon Husted one day before the deadline for qualifying for the general election.
The paperwork is now in the hands of Husted and county boards of elections. The former has about 60 people working to process the petitions; the latter will have until late July to determine if We are Ohio, the group behind the drive, has enough valid signatures to place the referendum before voters in November.
The group needs more than 231,000 verified signatures from Ohio registered voters.
On Wednesday, it delivered 1,298,301 unverified names.
"This historic number of signatures sends a strong, clear message to the extreme politicians who played political tricks to pass SB 5 and to the rest of the country," Melissa Fazekas, spokeswoman for We Are Ohio, said in a released statement. "More than 1 million voices from all 88 counties can't be wrong."
Senate Bill 5 places limits on collective bargaining, changing the way more than 350,000 public workers have negotiated contract terms for nearly three decades. The new law also prohibits strikes and enables state and local governments and schools to base employee-pay decisions on performance.
Proponents say the law is needed to enable state and local governments to better control their costs.
"The unsustainable cost of government is one of the biggest attacks on our middle class, and Ohioans are tired of being badgered for higher taxes to fund the growing cost of government," Jason Mauk, spokesman for Building a Better Ohio, the pro-Senate Bill 5 campaign effort, said in a released statement.
"Our communities are struggling financially. It's time to give them the flexibility to balance their budgets in a tough economy."
Gov. John Kasich said repeal of Senate Bill 5 would hurt local governments.
"It will be a … blow to local communities," Kasich told reporters Wednesday. He added, "I wouldn't presume what an outcome [of the potential ballot issue] would be, but the loss of that would really continue to hamper our local communities."
The governor also said opponents of Senate Bill 5 have spread or believed rumors about the legislation that aren't true.
"God bless 'em," Kasich said. "Many of them have been misled. Some of them are frustrated. Many of them are angry. You know, I understand that. I know. I live out there amongst all the folks. But we've got to be together on this, and it will all work out."
But opponents say it's a politically motivated attack on unions that will result in cuts in the ranks of teachers, police officers, firefighters and other public servants.
"I think the governor has met his Waterloo," state Rep. Bob Hagan, a Democrat from Youngstown, said while marching in Wednesday's parade in downtown Columbus. "The thousands of people that are behind this are behind this because they want to repeal [SB5] and they want to fight for working people."
"People in my district are angry," added state Rep. Ronald Gerberry, a Democrat from Austintown. "And Senate Bill 5 will be strongly, strongly repealed in the Mahoning Valley."
Jeff Younkins, a captain at the Warren Fire Department and a union member, also attended Wednesday's parade. He said firefighters from his area collected about 10,000 signatures.
"We've been vilified, the police and fire have been vilified," he said of Senate Bill 5. "We're not the enemy. The current economic conditions, they're not the result of the public employees, especially the police and fire."
SB 5 was scheduled to go into effect Friday, but now that is delayed until August as the signatures are verified. If there are enough valid signatures to get it on the ballot, SB 5 will be held in abeyance until after the November election, when SB 5 will either be killed or go into effect.