Ohio football all-stars set to face Pennsylvania in Stateline Classic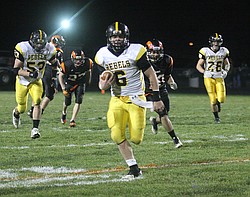 Photo
FOOTBALL - Carter Hill is all smiles as he breaks off a long gain Friday night in Mineral Ridge. - Special to The Vindicator/Nick Mays
STATELINE CLASSIC
When: Thursday, 7:30 p.m.
Where: Geneva College in Beaver Falls, Pa.
Tickets: $7 at the gate.
BEAVER FALLS, PA.
This might be Mark Asher's first time coaching a high school all-star football game, but the Struthers High School coach is thrilled he was asked.
"It's a great honor," said Asher, who took the Struthers job after coaching at East Liverpool High for much of the past decade.
"It's awesome. We got the best of the best."
The Quad-County Football Coaches Association Ohio-Pennsylvania Stateline Classic will be played Thursday at Geneva College at 7:30 p.m.
Pennsylvania won last year and has the advantage in the series now 32 years old but the two states have split the last six meetings.
The Ohio team has been practicing in the heat and humidity on the turf at East Palestine High and Asher noted the players have good attitudes.
"They didn't complain a bit. They've been working hard."
Asher plans to use two quarterbacks (Josh McLaughlin, United High and Carter Hill, Crestview).
"Both will get plenty of snaps," said Asher who coached on the college level for some time.
He noted John Eckroth of Steubenville has had "a good camp" and will play nose guard.
Mike King of Salem has also stood out and will play tight end and defensive tackle for the Buckeyes.
Also, Josh Otto (Lisbon) has caught Asher's eye.
The Ohio roster includes 36 players, some coming from as far away as Indian Creek and Steubenville.
However, there are three players from Poland, two from Salem, two from South Range, five from East Liverpool as well as a West Branch graduate.
---
PENN-OHIO ALL-STAR FOOTBALL CLASSIC
Ohio Roster
Beaver Local — Evan Schneider (LB)
Columbiana — Nick Roncone (FB/LB); Matt Douglas (OL)
Crestview — Carter Hill (QB); Jeff Bing (OL)
East Liverpool — Willie Leavell (CB); Kyle Weyand (DB); Alex Morris (LB); Kody Edwards (OL); John Thompson (OL/DL)
East Palestine — Mike Salyers (DB/S)
Edison — Mark Rogers (LB)
Indian Creek — Jordan Spence (WR); Nick Otto (LB)
Leetonia — Devan Miller (FB)
Lisbon — Josh Cook (CB)
Poland — John Medina (RB); Dave Bosak (DL); Dave Bobby (OL)
Salem — Eric Bailey (LB); Mike King (DL/TE)
Sebring — Seamus Johnson (DB/S)
South Range — Phillip Arsuffi (RB); Ethan Witmer (K)
Southern — Josh Melhorn (LB); Trey Griffith (S)
Springfield — Jake Noble (DL)
Steubenville — Jake Linn (OL/DL); John Eckroth (DL)
United — Josh McLaughlin (QB); Ryan Powell (WR)
Wellsville — Chad Elliott (RB/DB); Joe Hall (OL)
West Branch — Michael Underwood (DL)
Western Reserve — Ryley Sheptock (WR); Ed Crump (LB)