Yorks, 49ers seek scholarly solutions at fundraiser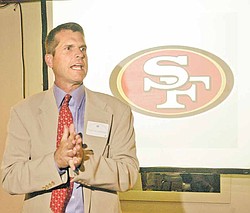 Photo
Jim Harbaugh, the new head coach of the San Francisco 49ers, was among the guests at the annual Edward J. DeBartolo Memorial Scholarship Foundation celebrity dinner auction in Howland.
By Sean Barron
HOWLAND
Denise DeBartolo York believes helping youngsters receive a solid education will go a long way toward turning things around in the Mahoning Valley.
"If you're not part of the solution, you're part of the problem," she said.
A major part of the solution for DeBartolo York and her husband, Dr. John York, was awarding eight high-school students from Trumbull, Mahoning and Columbiana counties $48,000 in scholarships in May from the Edward J. DeBartolo Memorial Scholarship Foundation.
The foundation was the centerpiece of Monday's annual celebrity dinner and auction at Leo's Ristorante & Banquet Center, 7042 E. Market St.
In addition to the auction, the gathering featured several former San Francisco 49ers players as well as two coaches. DeBartolo York and her husband own the 49ers.
The eight 2011 high-school scholarship winners were Lydia Althouse, United Local High School; Tiffany Colon, Campbell Memorial; Davina Groover, Hubbard; Hayley Herrera, Jackson-Milton; Michelle Jones, Lordstown; Shane Organ, Columbiana; Tyler Stimpert, Ursuline; and Danielle Strong, Boardman.
The awards were in memory of DeBartolo York's father, the late shopping-mall developer, entrepreneur and philanthropist who died Dec. 19, 1994.
Several hundred sports figures, elected officials and others attended the auction, the proceeds of which were to benefit the foundation.
Prizes ranged from cabaret baskets to concert tickets to 49ers memorabilia.
The foundation sends applications to high schools in Mahoning, Trumbull and Columbiana counties, and students are selected based on financial need, academic achievement and community service, said Shannon Rovnak, a secretary with the DeBartolo Corp.
More like this from vindy.com