Bo Pelini's Huskers face difficult conference slate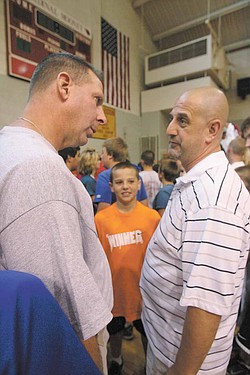 The Vindicator ( Youngstown)

Photo
JESSICA M. KANALAS || THE VINDICATOR..Bo Pelini Nebraska Coach talks with Karl Scheetz and his son Luke 11, of New Springfield after the camp.MooneyÕs Camp of Champions. -30-
Bo Pelini's Huskers face difficult conference slate
By Joe Scalzo
YOUNGSTOWN
Nebraska's first season in the Big Ten should be about as much fun as one of one of Don Bucci's old practices.
The Cornhuskers, led by Cardinal Mooney High graduate Bo Pelini, will open their first Big Ten slate with interdivision rivals Wisconsin (Oct. 1) and Ohio State (Oct. 8) — both night games, by the way — as part of a conference schedule that includes just one non-bowl team from 2010 (Minnesota).
"I figured that would happen," said Pelini, a guest instructor at Mooney's annual "Camp of Champions" on Monday. "They're not going to do us any favors for our first year in the league.
"It's a tough schedule and it's going to be a challenge for us but I think we have a chance to be a pretty good football team, so we'll see what happens."
Pelini enters his fourth season at Nebraska with a 30-12 record that includes three Bowl victories and back-to-back berths in the Big 12 championship game.
Nebraska will compete in the Big Ten's Legends Division, which features Iowa, Michigan, Michigan State, Minnesota and Northwestern. Its three Leaders Division foes — OSU, Wisconsin and Penn State — also happen to be that division's toughest.
But Pelini said his team, which includes the Big 12 offensive freshman of the year in QB Taylor Martinez, is excited about the challenge.
"I think they're looking forward to playing some new teams in new venues and the chance to join the great tradition of the Big Ten," said Pelini, who played at Ohio State from 1987 to 1990. "I think there's a sense of excitement for the players and the fans and that's good for the program."
Nebraska is among the early front-runners for the conference championship, especially since Ohio State will be without QB Terrelle Pryor and Coach Jim Tressel, who both left the program in recent weeks due to the ongoing memorabilia-for-tattoos scandal.
"Honestly, I'm not real familiar about what happened and what's going on there, so I'd be remiss to give my opinion," said Pelini. "I just know Coach Tressel did a phenomenal job at Ohio State and did a lot of great things for the school.
"I think everyone associated with the program recognizes that and it's too bad. They'll move on and they'll be strong in the long run, but it's never a situation you want to see anybody go through."
Pelini was a standout quarterback at Mooney under Bucci — he led the Cardinals to the Division II state championship game in 1985 — and coached quarterbacks at his alma mater in 1993 before starting a six-year stint as an NFL assistant.
Although the practice field has changed considerably since those days — there's now a turf field over the dirt/rock field where Bucci held his legendary grueling practices — the school's building and the school's tradition are the same.
"They usually keep me pretty busy down there [in Lincoln] but it's great to get back," said Pelini, whose son Patrick participated in the camp. "It's a good weekend and it gives me a chance to see a lot of family and friends that I don't get to see very often."
More like this from vindy.com