Harbaugh preparing for NFL season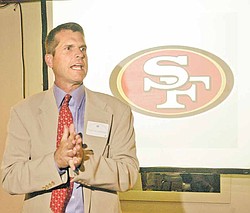 Photo
Jim Harbaugh, the new head coach of the San Francisco 49ers, was among the guests at the annual Edward J. DeBartolo Memorial Scholarship Foundation celebrity dinner auction in Howland.
By Greg Gulas
HOWLAND
With the NFL lockout over 100 days old and counting, fans are beginning to wonder if there will be enough time to salvage the 2011 season when both sides eventually agree to the issues on the table.
First-year San Francisco 49ers coach Jim Harbaugh, while acknowledging that ground has to be made up once the two sides have a resolution, takes the high road as he and his staff continue to put their system into place with the hope that the season will be played.
Monday at the Edward J. DeBartolo Memorial Scholarship Foundation's Celebrity Dinner Auction at Leo's Ristorante, the veteran NFL quarterback and former Stanford coach is ready to get his maiden professional season underway.
He just didn't envision that season encountering this much of a delay.
"I can't tell you how far this has set us behind and yes, there are a myriad of obstacles that have been thrown our way, but the challenges and obstacles must be overcome," he said.
"I think it will all come together fast once we get the players get in and we will use every minute to get ready for the season."
Harbaugh, who took over the coaching reigns on Jan. 7, said he and his staff have made good use of their time without the players in camp.
"In February, March and April, it was all draft. We were working on the draft, familiarizing ourselves with the players and myself, with the draft process.
"It was beneficial that I got that much time to spend on draft prospects and I thought that we had a really good draft," he added.
"In addition, getting to know my general manager, Trent Baalke, was very beneficial. After that, it was all on our scheme and game-planning for our future opponents, creating organization for every possible scenario when the players would possibly come back," he said.
Harbaugh, who played 15 seasons in the NFL with Chicago, Indianapolis, Baltimore, San Diego, Detroit and Carolina, said without the players in camp he was able to get more adjusted to some things.
"We tried to find every positive that we could while using our time as effectively as possible and in a positive manner," he said. "It's a little too early to say who the best players are and exactly what we have on our football team, other than going off the latest, healthiest tape. After doing so, I think we have a pretty good football team."
No stranger to developing quarterbacks, Harbaugh leaves behind one of the top signal callers in the nation at Stanford in Andrew Luck, who opted to remain with the Cardinal for his senior season.
He inherits, however, a group with which he is looking forward to working.
"We feel good about our quarterback situation. Two guys that will be competing for the job as I look at it now are Alex Smith and rookie Colin Kaepernick. We'd still like to add another quarterback or two to the training camp roster," he said.
"Basically, it's those two guys who have the license and ability to be the starting quarterback. The quarterback in my eyes is a position that is an earned one so we'll throw the balls out there and let them compete for it," he said.
Coaching against his brother, John, coach of the Baltimore Ravens, will also be very special.
"Next to my wife and father, he's [John] my best friend but on game night, none of that will matter. There's no brothers; no friends. He's just someone that we're trying to beat and I'm sure he feels the same way," Harbaugh said.
The 49ers are scheduled to play the Ravens on Thanksgiving night in Baltimore.
That is, if there is enough time to salvage the season.