Canines cavort at 2nd annual event at Mosquito Lake Dog Park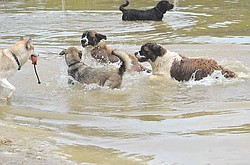 Photo
Dogs play in their own beach area at the Mosquito Lake Dog Park during the second annual Doggie Days event Sunday.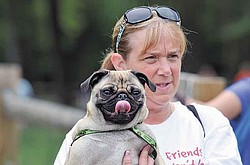 Photo
Mary Jenter of Warren and her pug, Sofie, watch as dogs splash around in the Mosquito Lake Dog Park beach Sunday afternoon.
By Jordan Cohen
BAZETTA
They were all there — every breed from German shepherd to Chihuahua. More than 100 canines with their owners in tow showed up for the Second Annual Doggie Days at the Mosquito Lake State Park Dog Park on Sunday.
Ron Strader of Cortland arrived by bicycle with Giles, his little Yorkshire poodle, in a basket on the handlebars. "He's not scared of the other dogs, and I let him run," Strader said.
Guiness, a friendly year-old Labrador mix, nuzzled with other nearby dogs. "He loves it here," said his owner, Ross Thompson of Howland. "This place is fantastic."
The Mosquito Lake Dog Park Friends sponsors the event to increase awareness and raise funds for the five-acre park, which is divided in two fenced areas — one for small dogs and the other for dogs weighing more than 25 pounds. The state park maintains the area, but improvements, such as fences, have to be privately funded.
The association has several projects on the drawing board, according to Emily Frantz, its president as she walked Cody, her fawn- colored Doberman.
"We're looking to build a handicap-accessible area, and then we'd like to purchase sand for the beach where the dogs swim," Frantz said.
That portion of the beach, directly accessible from both fenced-in areas, attracted several of the larger dogs that headed into the shallow water, jumped and splashed, and emerged to shake off the water dousing their owners and onlookers. Two labs raced to retrieve a flying disk tossed by their owner, Marsha Vandevort of Geneva. Vandevort, who operates the Green Leash website that sells dog treats, praised the park and said she hopes to establish a similar facility.
"There really aren't many places around like this, and I'm working on starting one in Geneva," said Vandevort, who frequently brings her dogs to Mosquito Lake.
Several vendors such as Vandevort set up booths including the Mineral Ridge branch of Ohio Fuzzy Pawz Shi Tzu Rescue, which had four of the small wide-eyed dogs available for adoption. Their Shi Tzus either have been taken in after being abandoned or rescued from puppy mills.
"We check out references and make visits before we approve any adoption," said Joan Kovach of Mineral Ridge, who has been working with Ohio Fuzzy Pawz for 12 years.
While she spoke, one of the little Shi Tzus kept trying to get her attention, and Kovach admitted she's not likely to put it up for adoption. "He's made himself at home, and he's not going anywhere," Kovach said.
Doggie Days admission was free, but owners were encouraged to pay small fees to enter their dogs in several events such as ball retrieval. As for cleanup, the Dog Park Friends supply bags at no charge.
"There are only about 50 of us in the Friends," Frantz said, "and we hope we can get more people to join and volunteer to help us improve the park."
The group can be contacted through its website: www.mosquitolakedogpark.com.