Betras is Democrat of Year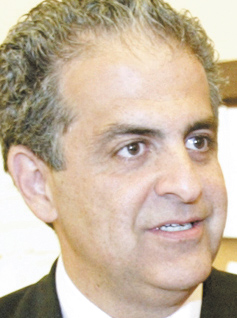 Photo
David Betras, Mahoning County Democratic Party chairman.
Columbus Dispatch
COLUMBUS
Mahoning County Democratic Party Chairman David J. Betras was awarded the Ohio Democratic Party's highest award, the Democrat of the Year Award, at the state party's annual dinner Saturday night.
It is the highest honor awarded by the Ohio Democratic Party. U.S. Rep. Tim Ryan of Niles, D-17th, presented the award.
"I accept this award on behalf of the Mahoning County Democratic Party Executive Committee and 287 members of the Central Committee Members of the Mahoning County Democratic Party, and the loyalty of every Democrat in the Valley," Betras said during his acceptance speech. "This award is a direct reflection on their perseverance.
"I would not have received this honor had it not also been for the numerous people who work so hard behind the scenes, not only for fellow Democrats but on behalf of all Ohioans. I am humbled, honored and appreciative of this award. I would not be here if it were not for the Democrats of Mahoning County and the strong allegiance to our core values that resonates throughout the Valley."
It marked the second time Betras has been recognized by the Ohio Democratic Party; he was selected 2010 Chairman of the Year.
Meanwhile, something awful happened to the state party between last year's annual dinner and the one Saturday night — an election.
With the exception of Vice President Joe Biden, the keynote speaker, the Columbus Convention Center featured politicians with the word former attached to their names, including former Gov. Ted Strickland. At the same venue 10 months ago, the stage was crowded with incumbent statewide officeholders.
Even so, the 1,552 faithful attending the party's dinner fundraiser — about $1.5 million was hauled in — were in no mood for a pity party. Instead, an unmistakable resolve could be sensed in the ballroom, a palpable optimism that 2012 will be a rebound year that seals the re-election of President Barack Obama and Sen. Sherrod Brown.
"The time for licking our wounds is over," Biden told the audience. "2012 doesn't feel like 2010, it feels like 2008."
The confidence had as much to do with this year's Nov. 8 election as the 2012 presidential contest. Democrats are champing at the bit in November to repeal Senate Bill 5, which limits public-employee collective-bargaining rights.
"I think it is much more likely that President Obama will carry Ohio because of Senate Bill 5 than would have been the case if this legislation had not been put forth," Strickland told reporters.
Democratic leaders Saturday night said the party's base, particularly union members and their families, have been united and energized by what they view as an overreaching and extreme agenda pursued by Gov. John Kasich and Republicans controlling the Legislature. Along with SB5, Democrats decried GOP moves to cut funding for education and to require voters to show photo IDs.
"Because of what's happened at the state level, the motivation and inspiration and determination of the people in this room are at an all-time high," said Columbus Mayor Michael B. Coleman. "The Republican Party woke up a sleeping giant, and that giant will be visible in November and in 2012."
In a statement, Ohio GOP Chairman Kevin DeWine indicated that Democrats are just as frustrated as other voters by continuing hard economic times, which will haunt Obama.
"When one considers the focus this administration places on pep rallies over job creation, it is not surprising that even their most liberal allies are disenchanted with the thought of four more years of their failed economic agenda," DeWine said.
Before the dinner, John Green, political science professor at the University of Akron, said the SB 5 repeal campaign has brought labor back into the Democratic fold with renewed fervor, particularly because union leaders view it as a move to economically and politically weaken public-employee unions.
"A lot of the union organizers I've talked to up in Akron tell me that Senate Bill 5 is the trial run for the presidential election," Green said. "They say, 'We were not in the game in 2010, and we want to be in the game next year, and this is a great organizing tool for us.'"
But the stakes are high, because failure to repeal SB5 might demoralize the Democratic base in Ohio heading into the presidential election. Brown and fellow Democrats already are at a disadvantage in their 2012 effort to retain control of the U.S. Senate. Democrats must defend 23 seats, compared with 10 for the GOP, and if Republicans flip just four seats, they'll become the majority.
"So, control of the White House is critical," Green said. "That's why those Democratic interest groups are very motivated."
Brown was attending his daughter's wedding, but delivered a prerecorded video message to the dinner. He said Ohioans have been "disrespected and insulted by this [Kasich] administration, and in November, we will turn back Senate Bill 5."
Biden delivered an impassioned 48-minute speech, saying Republican governors in Ohio, Wisconsin and other states are pursuing radical agendas that suppress the rights to vote and collectively bargain, while pursuing tax policies that favor the wealthy.
People are getting a real dose of the unvarnished agenda of this new Republican Party circa 2010. They see it, they feel it, they smell it, and they don't like it.
Biden said the GOP's portrayal of Obama as weak won't play in 2012: "When [Americans] saw the meticulous planning and the decisiveness that brought down Osama bin Laden, that narrative ended."