Youngstown murder victim, suspects have lengthy crime backgrounds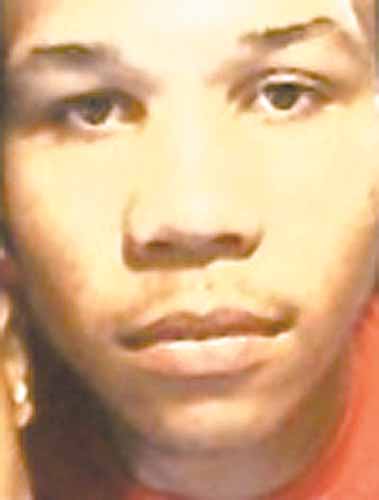 Photo
Chaney student belonged to street gang, reports say
YOUNGSTOWN
The 16-year-old boy killed on the city's South Side last week and the two teens suspected of committing the murder have extensive criminal backgrounds, police records show.
Gang violence, fights, theft, burglary, shootings and drugs have been factors in the lives of the victim and the two youths police believe committed Saturday's slaying.
Brandon Adkins, 16, of East Philadelphia Avenue, was shot outside a home on South Avenue. Police found him in the driveway of the house surrounded by a large crowd. The Mahoning County coroner, after an autopsy, said Adkins had been shot in the back and abdomen. He was pronounced dead by paramedics.
The police department's Capt. Rod Foley said Adkins was shot by two people with two different guns. Police believe Rayshawn Marquise Royal, 17, and Deandre Maurice McCrary, 15, both of the South Side, are responsible for the shooting, each having fired a shot at Adkins. Warrants have been issued for their arrests.
Foley said the shooting took place after a fight earlier Saturday night at a party on Mistletoe Avenue. He said police do not believe the shooting was gang-related but said all three boys could be part of any one of the nearly 30 identified, but loosely knit, gangs operating throughout the city.
Various reports indicated Adkins was affiliated with the H-Block Gang, which operates on the South Side.
"A lot of this stuff is kids who grew up in a particular neighborhood, reach a certain age then identify themselves with a given group," Foley said. "These kids often come from homes with not much supervision, and it sets them up for the rest of their lives."
The teen shooting victim and those suspected of taking his life are no strangers to law enforcement.
Reports show Adkins and several other boys, also 16, were suspected of beating a teen and firing a shot at the boy in January because they believed the boy snitched on someone. The victim's mother in that case told police Adkins and his friends were members of the H-Block Gang.
Adkins also was accused of forcefully entering a home on East Avondale Avenue last August in an attempt to fight a group of teens as well as multiple acts of domestic violence associated with his 43-year-old mother, Irene Adkins.
Irene Adkins, earlier this week, offered a word of prayer to the killers of her son.
"My son had the biggest heart. He was the most-giving person, and the heart of the family as well as the heart of this neighborhood," she said.
Reports also show that windows in Adkins' home were shot out in June 2010 after a group of teens came to the house and demanded Brandon come outside so they could kill him. The same group of teens had threatened to shoot the house one day before during an argument.
The Adkins' East Philadelphia Avenue home this week had boards covering the front windows with visibly shattered glass beneath.
There are reports showing that Adkins was arrested for stealing then wrecking his mother's car and was suspected of robbing another teen by snatching a $20 bill out of the teen's hand outside a store and running off.
Adkins was implicated in assaulting another group of youths with a chair when he was 9 and assaulting another teen by biting the boy when he was 12. He also was arrested for having marijuana in school when he was 14.
McCrary, a suspect in the murder, has been a reported runaway twice in the last two years. He, with several other teens, was also implicated in a 2010 burglary on East Ravenwood Avenue.
The 17-year-old murder suspect, Royal, was implicated in a 2006 assault at Eagle Heights Academy, where reports allege he pushed another student into a wall and choked the boy. He was also implicated in a theft at a relative's home in 2008 and an aggravated burglary on East LaClede Avenue in 2009 where items were taken from the home of Royal's teen friend.
Royal was also the victim of a shooting in 2010 when he was shot twice in the leg while at an East Side housing project. He was reportedly uncooperative with officers, saying he did not know who shot him and did not provide much information.
Foley said the pattern of criminal behavior is familiar for these youths.
"They start off with burglaries and thefts, then escalate up to robberies. They eventually find that is not lucrative enough and graduate to drug sales," he said.
Foley estimates that about half the burglaries committed in the city are committed by people under 21. He said those burglaries are oftentimes how teens acquire weapons such as the two guns used to shoot Adkins.
"They go into these houses, steal these guns, then buy, sell or trade them. That is how these kids are arming themselves out there," said Foley. "Once the [stolen] gun is out there, it is out there until we find it."
The city has had six homicides in 2011. Of the six victims, half have been under 21, and two have been under 18. The city recorded four murders of people under 21 in 2010.
Willena Newberry, an Ohio-certified prevention specialist with the Youngstown Urban Minority Alcoholism and Drug Abuse Outreach Program, said many programs are available to prevent children from entering the world of crime and gang violence. Her group goes into schools with programs that offer teens an alternative to drugs, sex and violence.
Newberry said kids indicate their environment is a large factor in choosing criminal behavior. She said that is why the home environment is so critical.
"It all goes back to the parents. All we can do in the community is be firm mentors and encourage these kids," she said. "We have to build relationships with these kids. When you build relationships they will respect you."
Foley said parents could also help police out a great deal by knowing where there children are and what they are doing. He noted that the victim and suspects in last week's shooting were all out past the city's 11 p.m. curfew for juveniles.