Port in stable condition 24 hours after surgery
Ed Port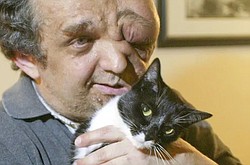 Video
Ed Port of Austintown who suffers from a rare condition called type 2 neurofibromatosis will undergo a series of corrective surgeries.
By CLIFF WARD
CHICAGO
Austintown resident Ed Port was in stable condition Thursday night, less than 24 hours after a lengthy surgery to remove a large tumor from his head and reconstruct some of his facial features.
Port, who has the genetic disorder neurofibromatosis, underwent a 12-hour operation Wednesday at St. Joseph Hospital here, and was expected to spend at least 24 hours in the hospital's intensive care unit, hospital officials said.
A nurse reported Thursday night that Port, 40, was in stable condition and was expected to spend his second night in the ICU. She declined to provide any additional information regarding Port's condition.
Port had traveled to Chicago on Sunday for the first of what may be three surgeries to remove the tumor that has not only altered his appearance but affected his hearing and vision.
During Wednesday's marathon operation, surgeons removed part of Port's skull, which they used along with titanium, to help rebuild the orbital bone and cheek. Both facial structures had been damaged by the large tumor that can characterize neurofibromatosis.
In a Tuesday interview, Port said that if no complications arose, he may have another surgery at the hospital in about eight weeks. In the meantime, he said, he would return to Austintown when he is well enough to travel.
Port, with the help of friends, established his "Ed Needs A Miracle" website a few years ago, www.edneedsamiracle.com, to try to raise funds for the surgeries and awareness about the disease.