Cavs start new era with Irving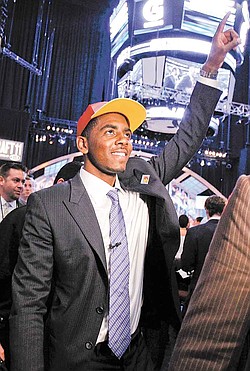 ASSOCIATED PRESS

Photo
Kyrie Irving, a former Duke basketball player, gestures to the crowd after being selected with the No. 1 pick by the Cleveland Cavaliers during the NBA basketball draft, Thursday, June 23, 2011, in Newark, N.J. (AP Photo/Julio Cortez)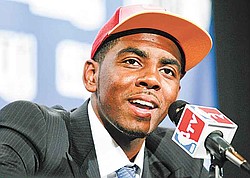 ASSOCIATED PRESS

Photo
Duke's Kyrie Irving talks to reporters after being selected with the No. 1 pick by the Cleveland Cavaliers during the NBA basketball draft, Thursday, June 23, 2011, in Newark, N.J. (AP Photo/Julio Cortez)
Associated Press
Independence
Kyrie Irving didn't know if he was going to be the No. 1 pick until NBA commissioner David Stern called his name.
"I was as surprised as anyone," he said.
You're going to Cleveland, kid.
Moving further away from LeBron James' maddening departure, the Cavaliers selected Duke's versatile point guard with the top pick in Thursday's draft, an expected-and-safe selection for a franchise that had to endure a 63-loss season after being abandoned last July by James short of a championship.
Irving played only 11 games last season for the Blue Devils because of a toe injury, but that didn't scare off the Cavaliers, who strongly considered Arizona forward Derrick Williams before settling on the 6-foot-2 Irving, the class of what is considered one of the weakest drafts in years.
Irving is the third point guard taken first overall in the past four years, joining John Wall, who went to Washington in 2010 and Derrick Rose, chosen by Chicago in 2008. In a league being dominated by backcourt stars, the Cavs are counting on Irving to become an elite playmaker and Cleveland's newest star.
He's up for the challenge.
"It's something that I've been dreaming about for a while," Irving said on a conference call from New Jersey. "I know they'll embrace me. I just want to bring a lot of wins to the city of Cleveland."
One summer after James' decision, the Cavaliers are making all the choices.
After taking Irving, the Cavaliers used the No. 4 pick on Texas forward Tristan Thompson, a selection that was viewed as a bit of a surprise. The team was reportedly interested in Lithuania center Jonas Valanciunas, but may have been turned off by his uncertain contract situation with a pro club in his home country.
The 6-foot-8 Thompson, who is from Toronto, only played one year with the Longhorns, averaging 13.1 points and 7.6 rebounds.
His addition could mean the Cavaliers, who also have the Nos. 32 and 54 picks, are seriously shopping power forward J.J. Hickson, an immense physical talent who has shown flashes of stardom but whose on-court lapses frustrated coach Byron Scott last season.
Thompson has been friends with Irving since they were in high school, and he's excited about the chance to play with someone he considers a brother.
"I think we'll complement each other real well," Thompson said.
For the Cavaliers, this draft signals the start of a new era — one they hope will someday end with owner Dan Gilbert being handed the Larry O'Brien Trophy.
There's still a lot of work to be done, but in the 19-year-old Irving, the Cavaliers believe they have the player who can take them back to where James had them before bolting as a free agent.
"I really want to be the cornerstone," he said, "the piece of the team that they build around and have a lot of great players around."
The Cavaliers traded the rights to their second-round pick Justin Harper to Orlando for future draft picks.
Cleveland selected the 6-foot-10 Harper out of Richmond with the No. 34 overall pick before sending the forward to the Magic for the club's second-round picks in 2013 and 2014.
Harper averaged 17.9 points and 6.9 rebounds as a senior.
The Cavs chose Serbian power forward Milan Macvan (6-9) with their other second round pick, the 24th in the round and No. 52 overall.