Juan Salinas set for pro debut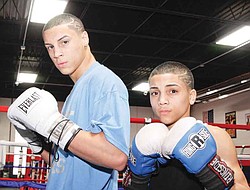 Photo
Juan Salinas and his older younger brother Alejandro Salinas at Southside Boxing Club in 2009
By Joe Scalzo
YOUNGSTOWN
At this time last year, Juan Salinas was closing in on his 10th year as an amateur boxer and started wondering, "Am I missing out on a lot of fun?"
Salinas spent most afternoons in the gym and several weekends each year traveling to tournaments, while his peers spent that time playing pickup basketball or video games. Meanwhile, his younger brothers — Popo, Pedro and Julian — wanted to try some different sports, such as baseball, basketball or football.
So they took a break.
And almost immediately, Salinas started feeling what he calls the "boxer's twitch."
"I would be at home walking around and I'd just be throwing punches in the air," said Salinas, a senior at East High School. "I'd be thinking, 'Man, why did I quit? Why did I take a break?'"
Then he turned 18, started thinking seriously about what he was going to do with his life and didn't like his options.
"It's hard out there," said Salinas, who is struggling to pass the Ohio Graduation Tests, which are necessary to earn a diploma. "There are no jobs in Youngstown. I see my family struggling, I see my girlfriend struggling, I see myself struggling to find a job. I even thought about joining the military, but my heart wasn't it, like it was with boxing.
"So I figured, you know, I'm really good at boxing. Maybe I should go back and try it."
So, about nine months after walking out of the Southside Boxing Club, he and his brothers walked back in.
"He came to me and said, 'If I'm going to continue fighting, I've got to make some money,'" said his trainer, Jack Loew. "He has about 65 amateur fights so it's time to trade in his trophies for a payday."
Salinas will make his pro debut against Cleveland's David Burns (0-1) in a four-round cruiserweight (200 pound) bout on the July 1 card at the Covelli Centre.
"I want to become something," he said. "I want to be like 'Boom Boom' Mancini and Kelly Pavlik, opening the doors for younger fighters like they opened the door for me."
While Salinas knows he's fortunate to make his pro debut on the city's biggest boxing event of 2011, he said his goal is to impress the judges, not the fans.
"I'm worried about what the judges are going to see in me," he said. "I need to prove to them I can do it and I need to prove to myself that I can do it. That I'm going to be a big pro like Kelly Pavlik."