Hundreds savor food, culture at first Simply Slavic Festival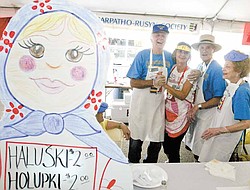 Photo
Enjoying the polka music at the first Simply Slavic Festival on Saturday night are, from left, Jim Basista, Marge Raiti, and Norm and Mary Jane Guidos. Hundreds ate food, dance and shopped Saturday at the downtown gathering that took 14 months to organize.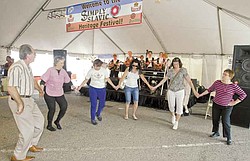 Photo
Taking part in a traditional Slavic dance to Tamburitza music are, from left, George Metzka, Libby Fil, Janine Mentzer, Lisa Nagy and Paula Horvath Festival attendees had a chance to dance to several Slavic-style bands.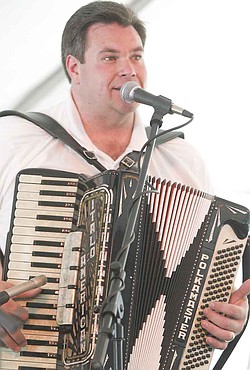 Photo
Mikey Dee of the Mikey Dee band traveled from McKeesport, Pa., to play polkas at the Simply Slavic Festival. Several polka bands played Saturday at the festival in downtown Youngstown. Hundreds attended the festival that ended with a Euro disco in the Central Square area late Satuday.
By Robert Guttersohn
YOUNGSTOWN
The smell of boiled cabbage and the sound of bellowing accordions converged at the first Simply Slavic Festival along Federal Street downtown Saturday.
Hundreds turned out to dance, buy Slavic clothing and toys and bid at the baked goods auction.
"The whole idea is not only to promote the downtown, promote the Slavic heritage," said David Slanina, one of the festival's organizers.
"That whole generation of people that still speak the language and carry on the tradition, they're all passing away. If we don't get the young people interested, we're going to lose a big part of the greatness of Youngstown."
And the young people were there and dressed for the occasion.
D'Ella Heschmeyer, 11, and Allina Rivera, 12, were two of several children wearing the red- and black-beaded vests and long, dark-colored skirts with flowers in their hair that make up the Krakowian folk costume. And they were knowledgeable on the culture.
"In the olden days, the girls made their dress to show what good wives they would be," Heschmeyer said.
Slavic baked goods, beers and groceries from several local organizations and food establishments lined a section of the festival.
Gordy Jelic-Lettieri, owner of Gordy's Specialty Market in Boardman, displayed several imported Slavic pat s, pastes and more.
"Both of my parents are from the former Yugoslavia, so I'm first-generation here," Jelic-Lettieri said. "So the store that I have is an inspiration and an homage to my parents and my heritage and the heritage of Youngstown."
Some came from as far away as eastern Pennsylvania to sell items and soak in the atmosphere.
Virginia and Chet Luty from Hinckley sold imported matrushka stacking dolls and other toys. They've traveled all around the country selling Slavic items. And Virginia has visited Poland nine times.
"We're not even Polish," Chet said. "We just enjoy meeting people."
As the bands played their horns, struck their snare drums and folks stood and shuffled their feet quickly to the polka beat, the first-year festival seemed to run smoothly.
But planning and coordinating among churches and organizations for the festival began in April 2010.
"A lot of meetings, a lot of just trying to get all the ethnic groups around the table to buy into one large festival rather than just having their own little church festival," Slanina said.
"There was a need for this, a pan-Slavic festival, not just each individual ethnicity."
More like this from vindy.com