Pavlik could meet Bute in title bout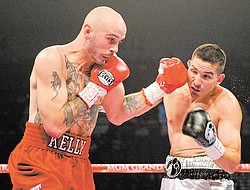 ASSOCIATED PRESS

Photo
Kelly Pavlik, left, lands a punch against Alfonso Lopez in the first round during a WBO World super bantamweight title bout, Saturday, May 7, 2011, in Las Vegas.
By Joe Scalzo
YOUNGSTOWN
Kelly Pavlik's next bout could be a big one.
Pavlik's promoter, Top Rank chairman Bob Arum, began negotiations Friday morning on a super middleweight title bout with IBF champion Lucian Bute (28-0, 23 KOs).
The fight would take place in early November in either Bute's hometown of Montreal, Quebec, or Atlantic City, N.J.
"If Kelly wins, he's back on top of the heap," said Arum. "If he loses, but gives the crowd an incredible performance, he's still right in the mix."
Arum said he won't put a specific deadline on the negotiation — "The people we're dealing with are really lovely people," he said — but would like to have an answer within the week.
Pavlik's promoter, Jack Loew, spoke with Top Rank matchmaker Bruce Trampler on Friday afternoon and gave his approval.
"I, myself, look forward to it," said Loew. "He's probably one of the best super middleweights in the world. He's left-handed, he's tall, he's strong, he goes well to the body and he packs it in, in Montreal.
"It'd be a hell of a trip to fight in Canada on major TV."
Pavlik is coming off a 10-round majority decision victory over Alfonso Lopez on May 7 in Dallas, which was his first bout since losing the middleweight titles to Sergio Martinez in April of 2010. Afterward, Pavlik and Loew admitted he looked very rusty until the later rounds, which is why Loew would like to see Pavlik take a tune-up bout in August or early September.
Arum opposes that plan — "If he wanted to do it, it's up to him, but I would advise him not to," Arum said — but Loew thinks a six-month layoff after a 13-month layoff would spell trouble against a fighter as talented as Bute.
"I just think that's too long to sit around," Loew said. "He definitely needs to get back in the ring."
The 31-year-old Bute is scheduled to fight Jean Paul Mendy (29-0-1, 16 KOs) on July 9 in Romania. Bute's last fight was on March 19, a 10th-round TKO victory over Brian Magee.
Bute seemed headed for a bout with former super middleweight champion Mikkel Kessler, but negotiations are not going well, according to a report on ESPN.com. Bute's next-best option would be Pavlik as he awaits a possible bout with the winner of Showtime's "Super Six" super middleweight tournament.
More like this from vindy.com