Minor league baseball returns to the valley
Scrappers 2011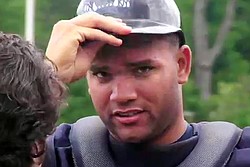 Video
The Mahoning Valley Scrappers are back in town for the 2011 season. Catcher Moises Montero grew up playing baseball in the Dominican Republic.
By Joe Scalzo
NILES
Since last summer, Moises Montero has added a wife and a baby, Kevin Fontanez has added 10 pounds and Kirk Wetmore has added a slider.
All three are back with the Mahoning Valley Scrappers. All three are hoping their new additions will help make it a short stay.
Montero, a 21-year-old catcher from Santiago, Dominican Republic, was a 26th-round draft pick in 2008 but he's played just 76 games over the three years, which included two stints with Mahoning Valley.
After batting just .171 in 32 games last year with the Scrappers, Montero was hit in the right hand by a pitch. Doctors inserted six permanent screws in his right hand — he has a small, but visible, scar — and he's finally healthy again.
"Last year I had a lot of trouble on my mind," said Montero, who said the Indians have asked him to improve on calling games from behind the plate this year. "I didn't find myself last year. This year I've got more confidence, I feel stronger and I'm going to do my best."
He married his girlfriend of three years in the offseason and he believes having his family nearby (they live in New York) will help him socially.
"My wife can come with me and stay with me and my baby, too," he said. "I won't be away from my family too much and I won't be too lonely."
Fontanez, a 24th-round pick out of the Puerto Rico Baseball Academy in 2008, batted .199 in 62 games with Mahoning Valley last year. He had just 15 extra base hits in 226 at-bats and the Indians asked him to gain between 10-12 pounds of muscle in the offseason.
He's now listed at 5-foot-11, 170 pounds. He spent the past few weeks in extended spring training, where he played well enough to move up to Mahoning Valley.
"Hopefully I can get up to [Single-A] Lake County or even [Single-A advanced] Kenston this year," said Fontanez, 20. "But I like it here. There are a lot of fans and you get excited about that.
"The mindset here is to do everything you can to win, so you'll have fun and the fans will have fun, too."
Wetmore, a left-handed starter, was an 11th-round pick by the Indians out of Bellevue (Wash.) Community College in 2009. He spent all of last season in Mahoning Valley, going 2-7 with a 6.26 ERA with 44 strikeouts in 542/3 innings.
"It's actually pretty cool to be back," said Wetmore, 22. "I already know the place and I think it's going to be a fun year."
Wetmore threw a fastball, changeup and curveball last year and started throwing his slider again after dropping it after college.
"They [the Indians] want me to work on throwing strikes," he said. "They want me to be able to throw two pitches for strikes and develop a third.
"Right now I throw four, so if one of them's not working, I've got other options."
Wetmore's teammates are a mixture of familiar faces (he played with most of them in extended spring training in Arizona) and new ones (mostly college players who were drafted earlier this month) and he's looking forward to forging a team.
"It's exciting to meet the new guys and help them accommodate to minor league baseball and the grind that it is, but also the fun we can have out here," he said. "That's what's great — the people you meet and the relationships you build with other guys. You build a lot of camaraderie and make a lot of close friends."