Former Scrapper David Wallace is new manager

Photo
Scrappers 2011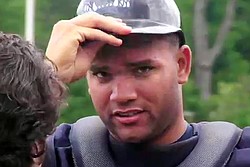 Video
The Mahoning Valley Scrappers are back in town for the 2011 season. Catcher Moises Montero grew up playing baseball in the Dominican Republic.
By Pete Mollica
NILES
David Wallace has a lot of fond memories of Eastwood Field and the Mahoning Valley Scrappers, but he also has one memory he's not so fond of.
Wallace, 31, will begin his first season as manager of the Scrappers when they open the season here tonight against the Jamestown Jammers at 7:05 at Eastwood Field.
Wallace, a catcher, began his professional baseball career with the Scrappers back in 2002 after signing as a non-drafted free agent in August of 2001 out of Vanderbilt.
"I have so many good memories from this place and that season," Wallace said. "I just remember how great the fans here were and all of the people in the team's front office. It was just an incredible first season in professional baseball."
"But, I do have that one memory I really don't like to think about too much," he added. "I'm not sure just when in the season it was, but I know that I fouled off a 96-mile-an-hour fastball right off the top of my left eye. It really hurt."
Walker, who spent seven seasons in the minor leagues, played just the one year with the Scrappers, but played in the Indians organization through the 2007 season.
He appeared in 45 games for the Scrappers and batted .255. He had a career average of .223 with 45 home runs and 180 RBIs in 486 games and was named to the South Atlantic All-Star team in 2003.
The past two seasons Wallace was an assistant to the Major League coaching staff in Cleveland and also this spring was the Indians catching coordinator in the team's player development system.
"The last two seasons were an enormous experience for me working with the Major League team," Wallace said. "I was in the bullpen catching the pitchers the entire season. Working on that side of the team you see a whole different perspective and you learn all the behind-the-scenes stuff that you really never knows goes on as a player.
"It was an experience first working with Eric Wedge and his staff and then last year with Manny Acta and his coaches. I really learned so much."
The Scrappers had just 19 players on the roster as of Thursday afternoon — that's better than Tuesday, when they had just 14 — and Wallace knows the roster will change quite a bit as draft picks get signed and players get moved up and down the organizational ladder.
Just what does Wallace expect from his group of players?
"Well, we want to make it clear that we're not here to put a lot of pressure on them early in the season," he said. "They are all going through a lot of adjustments right now. In a new place, finding a place to live and just getting accustomed to things around here.
"This first week is going to be very hectic for them and we as coaches know this and we're not going to put a lot of pressure on them."
Does Wallace have any goals for this year's team.
"My goal is to have these players walk out of here each day better than when they walked in," he added. "Are we going to try and win games? Absolutely. But more importantly it is to teach these guys the ins and out of the game, to respect the game — all the things that go into making a Major League baseball player."
"It's not talent alone, there's discipline and respect they need to learn and that's what we are here to do for them," he said. "We don't expect anyone to come out and really light things up right off the bat. It's a learning process and we know it's going to take time to develop."