Pryor hires agent, prepares for draft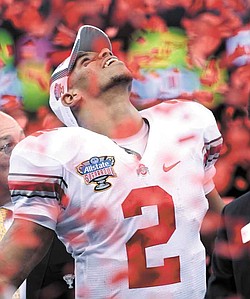 ASSOCIATED PRESS

Photo
Ohio State quarterback Terrelle Pryor celebrates amid confetti following Ohio State's 31-26 win over Arkansas in the Sugar Bowl NCAA college football game at the Louisiana Superdome in New Orleans, Tuesday, Jan. 4, 2011. (AP Photo/Dave Martin)
Associated Press
COLUMBUS
Former Ohio State quarterback Terrelle Pryor has hired Drew Rosenhaus as his agent and has taken steps toward making himself available for an NFL supplemental draft.
Pryor's lawyer, Larry James, said Monday that Pryor was in Miami and had signed an agreement with Rosenhaus, a high-powered agent who represents some of the biggest names in sports. His client list includes standout wide receivers Terrell Owens and Chad Ochocinco along with former Ohio State running back and Pryor teammate Chris "Beanie" Wells, now with the Arizona Cardinals.
"I am happy that he has reached this point and he's in secure hands," James said of Pryor.
Pryor, James and at least two other people spent the past few days discussing the quarterback's options in terms of agents. Then Pryor flew to Miami on Sunday and signed a contract with Rosenhaus on Monday.
James also formally notified Ohio State that Pryor had signed with an agent, which officially made the three-year starter ineligible in the eyes of the university and the NCAA. That clears the way for the next step in Pryor's hopes of making it into the NFL.
"The university declares him ineligible," James said. "Therefore, that is a prerequisite to being eligible for the supplemental draft."
Pryor announced last week that he would not return to the team for his senior season.
He had already been suspended by Ohio State and the NCAA for the first five games of the 2011 season for accepting improper benefits in the form of cash and discounted tattoos from a Columbus tattoo-parlor owner. The NCAA is investigating all aspects of Ohio State's athletic program, particularly the football team.
The probe led to the forced resignation of head coach Jim Tressel on May 30. Tressel has admitted he knew his players were taking improper benefits but covered it up for more than nine months before Ohio State officials discovered his knowledge.
Pryor cannot be signed as a free agent by an NFL team.