Heat's James swipes at critics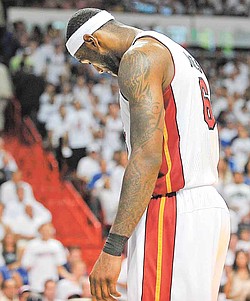 MCT

Photo
LeBron James of the Heat hangs his head during the third quarter in Game 6 of the NBA Finals between the Miami Heat and the Dallas Mavericks at the AmericanAirlines Arena in Miami, Florida, Sunday, June 12, 2011. (Michael Laughlin/Sun Sentinel/MCT)
Associated Press
MIAMI
There were seven seconds left in the NBA season and the Dallas Mavericks were already beginning their championship celebration when LeBron James started slowly walking toward Dwyane Wade, his right hand outstretched.
A quick embrace, and with that, the offseason began.
For the Miami Heat, it's time to regroup.
Changing locales did not bring immediate change to the ultimate outcome for James, whose eighth NBA season and first in Miami ended the same way as the previous seven in Cleveland — without a championship.
He took a swipe at those who criticized him and the Heat not long afterward, saying the quality of their lives will not improve because he failed to win a title. Truth is, without that ring, he won't reach the stratosphere he's longed for, either.
"There's no distractions that can stop me from trying to chase an NBA championship," James said Sunday night, after the final game.
No, but something always seems to stop him from winning one.
In 2007, his first finals appearance was a sweep against San Antonio, a team that was simply better. This time, the Heat had the home-court edge, were widely perceived as favorites and came into the finals flying high after needing only 11 games to get past Boston and Chicago.
Then, thud.
A Game 1 win was followed by a Game 2 collapse, and the series was never really the same again as Dallas won four of the final five contests.
"It was a memorable season, in terms of a group of guys coming together for a common goal to sacrifice a lot of things that they're comfortable with," Heat coach Erik Spoelstra said. "It was a hard-working, lunch-pail-type-mentality group that came to work every day to try to chase down this dream.
"There's an emptiness when you don't reach your goal. There's nothing we can say right now that will make that pain go away. Maybe it's as simple as it being a rite of passage before we have to move on and take the next step."
So where to begin, then?
James said Sunday night that he'll spend the summer getting better. Wade expressed the same sentiments. Changes will be made to the roster at some point, with the Heat looking to upgrade at point guard, center, the bench or all of the above.
And whenever next season begins, be it October or delayed by a lockout, James and the Heat will face the same situation they did in the season's final game: Win or bust.