Falcons hatch chicks on ledge of courthouse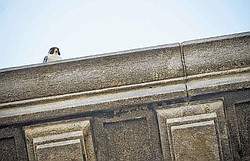 Photo
RAMI DAUD | THE VINDICATOR.A peregrine falcon made its home on the fourth floor of the Mahoning County Courthose seen here on the afternoon of June 13.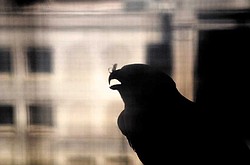 Photo
A peregrine falcon made its home on the fourth floor of the Mahoning County Courthouse.
YOUNGSTOWN
Stammy and Stellar, downtown Youngs- town's peregrine falcon couple, have succeeded in their second nesting attempt at the Mahoning County Courthouse, with chicks having hatched there in recent days.
Magistrate Dennis Sarisky of Mahoning County Common Pleas Court said he confirmed on Monday that at least three chicks had hatched on the fourth-floor window ledge outside the law library.
Kathy Zook of Mecca, a birdwatcher who frequently observes the raptors here, said she confirmed two falcon chicks there as of midday Monday.
Laura Graber, wildlife research technician at the Ohio Department of Natural Resources, said she hopes to visit the courthouse to observe the chicks later this week and return at the end of this month to place identifying leg bands on them.
In both 2009 and this year, peregrines hatched at the courthouse after failed nesting attempts earlier in each year at the Youngstown/Warren Regional Chamber on the 16th floor of the First National Bank building.
Two of three birds hatched in 2009 survived, but the third died after being run over by a motor vehicle on the Market Street bridge.
Last year, Stammy and Stellar failed in a nesting attempt atop the 17-story International Towers.
Stammy is named after the Stambaugh building, where he and Stellar had nested for several years.
Peregrines were driven to near-extinction in the 1960s, when the pesticide DDT interfered with their egg production.
They staged a comeback after DDT was banned in 1972, however, and they were upgraded by the federal government from endangered to threatened species status in 2008.