Couple lose home in plea agreement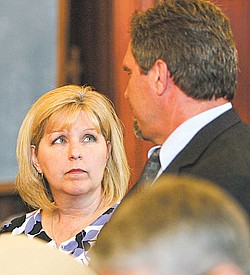 Photo
Linda and Scott Adair pleaded guilty Wednesday to embezzling about $1.3 million from Scott Adair's former business Southwind Trucking Inc. in Austintown. A plea agreement was reached.
By Elise Franco
Canfield
Scott Adair sped out of his Revere Run driveway for the last time Monday, leaving behind most of his family's possessions.
Adair and his wife, Linda, turned over the keys to 5305 Revere Run on Monday evening. The deed now is in the name of Mahoning County Prosecutor Paul Gains, said Ken Cardinal, assistant prosecutor.
The Adairs pleaded guilty Wednesday to embezzling more than $1.3 million between October 2004 and December 2007 from Scott Adair's former business, Southwind Trucking Inc. in Austintown, of which he was a partner.
Scott Adair, 51, pleaded guilty to aggravated grand theft, tampering with records, telecommunication fraud and two counts of money laundering — all third-degree felonies. He also pleaded to one fourth-degree felony count of telecommunication fraud.
Each third-degree felony charge brings with it the potential for up to five years in the penitentiary and up to $10,000 in fines. The fourth-degree felony charge carries a potential sentence of up to 18 months in prison and a fine of up to $5,000.
Linda Adair, 53, pleaded guilty to one count of complicity to commit theft — a fourth-degree felony. She faces up to 18 months in prison and a fine of up to $5,000.
Forfeiture of the house and all assets also was a part of the plea agreement, Cardinal said. He said the couple used the stolen money to pay the mortgage as well as purchase expensive sports tickets, jewelry, vacations and vehicles.
The family, including two teenage daughters, was allowed to pack clothing and personal photographs, he said.
"From what we can see, everything that is supposed to be here is here," Cardinal said.
He said the house and its contents will go up for auction before the couple is sentenced Aug. 5.
"After the auction we'll make the decision on how to divide up the money between the victims, the Austintown Police Department and the prosecutor's office," he said. "We have to keep in mind the trucking company and be fundamentally fair in what we give them."
Ric Barringer, also a partner in the business, was at the house but declined to comment until the sentencing.
Kathy Caldwell, a former Southwind employee, said the situation is sad, and the ordeal has impacted many people.
"The ripple effect is almost immeasurable," she said. "It's the people with families who lost their jobs, the unpaid vendors. Who knows how many of those people lost their jobs because of this?"
Caldwell said the case may be coming to a close, but it's not a celebratory feeling.
"We were looking for a resolution, and it's not anything to celebrate," she said. "This man, we thought, was part of our family, and we trusted him."