Graduations 2011: Triplet grads set high goals in Lowellville
Lowellville High School 2011 Graduation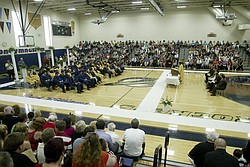 Gallery
Lowellville High School 2011 Graduation
LOWELLVILLE HIGH
Class of 2011
Number of graduates: 59
Number of valedictorians: Seven
Class colors: Periwinkle and silver
Flower: Tulip
Nickname: Rockets
Song: "Laugh Until We Cried," by Jason Aldean, country music singer
Source: Lowellville High School
By Sean Barron
LOWELLVILLE
It's been said that good things come in threes, and for three special graduates, good things will likely come.
"Today I'm happy, but kind of sad,' said Miguel A. Sanchez, one in a set of triplets to take home a diploma during Sunday's Lowellville High School Class of 2011 commencement at the Lowellville K-12 School. "I'm close to everyone here."
Also crossing the stage and receiving diplomas during the 90-minute program were his brother, Robert, and sister, Teresa.
Miguel said he's looking forward to attending the University of Akron this fall to study exercise science and enter a three-year program to become a physical therapist.
His fondest high-school memories will probably be his years as a linebacker and defensive tackle for the football team — specifically, the close bond he formed with teammates.
"I'd do anything for them; they'd do anything for me," Miguel said. "I love them."
It seems safe to say that high-school sports also will be responsible for many of Teresa Sanchez's positive recollections for a long time, especially having played first base on the softball team.
Teresa seemed to light up when she recalled having received honorable mention and being voted most valuable player for her defensive skills.
If things go Teresa's way, softball also will be in the offing for her at Youngstown State University, where she plans to major in early- childhood education. Her career goal is to open her own preschool, she added.
"I'm glad to be out [of high school] finally, but able to serve the community more," said Robert Sanchez, who's also a two-year volunteer firefighter with the Western Reserve Joint Fire District.
Last March, Robert received his first-responder certification, and last week, he earned another certification. This summer, Robert said, he plans to take an additional 123 hours of classroom and hands-on training.
A career as a firefighter is a top ambition for Robert, whose more immediate intention is to major in allied health and human services at YSU.
Also in attendance were their parents, Andy and Terri Sanchez, and many friends and relatives.
A career with young children also is in the cards for Michael V. Matisi, who will soon head for Westminster College in New Wilmington, Pa., to major in early-childhood education.
Matisi, who plans to spend the summer relaxing and seeing friends, said he prefers to be a teacher of youngsters in kindergarten through grade four, but is keeping his options open.
The keynote speaker at Lowellville's 122nd commencement ceremony was Raymond Repko, project manager with MS Consultants Inc. and a 1972 Lowellville High graduate.
Calling the 59 graduates' education "second to none," Repko said they were fortunate to be part of a small class, which afforded them plenty of one-on-one time with teachers.
Their education also allowed the graduates to develop excellent people skills, which are vital for any profession they choose, he explained.
Repko also praised the National Honor Society students and seven valedictorians for their accomplishments, adding that he was the only valedictorian in his graduating class of 47.
It is hoped that their years in Lowellville schools also gave the graduates opportunities to develop important intangible qualities, Repko continued.
"Class of 2011, I hope each of you become the leaders of tomorrow," he said. Tell your favorite teacher and coach, 'Thanks for your help'" he concluded.
Other speakers were salutatorian Natalie E. Frank, who discussed how education always has been a top priority in her family, as well as the qualities needed for personal improvement.
Receiving diplomas is not synonymous with reaching the finish line, but "is a start line to the rest of your lives," Frank told fellow graduates.
Valedictorians Anthony G. Alfano, Carly M. Conklin, Zachary J. Harklerode, John F. Kostelnak, Anne C. Partika, Michael S. Petronek and Matthew L. Russo spoke on themes that included leadership, service, generosity, commitment, faith, teamwork and integrity.
Additional remarks were made by Rocco Nero, superintendent; Sam Ramunno, principal; and Michael A. Koch, class secretary.