Students mark milestone, praise leaders in Girard
Girard High School 2011 Graduation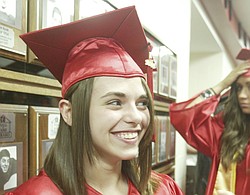 Gallery
Girard High School 2011 Graduation
Girard High School
Class of 2011
Number of graduates: 125
Class motto: "Every new beginning comes from some other beginning's end."
Class song: "We All Roll Along."
Class color: Red and black.
By Ed Runyan
GIRARD
It was a milestone graduation at Girard High School Sunday as the 125 members of the Class of 2011 became the first class to graduate from the new high school on Shannon Road.
Officials also noted two other milestones: the retirement of Superintendent Joseph Jeswald after 35 years with the district and the retirement of Pete Kalan, senior class adviser, after 41 years.
Caroline Standohar, senior class president and a valedictorian, thanked those men but also pointed out the impact Principal William Ryser has had on the Class of 2011, saying Ryser helped the school gain a sense of pride during his six years with the district.
Jeswald agreed, calling Ryser "the finest high school principal in the state of Ohio."
Ryser was principal at the middle school level when this class was in seventh grade, and has been high school principal the last four years.
Standohar cited a number of the achievements the class of 2011 has reached — record-high scores on proficiency tests, the highest-ever scores on the Ohio Graduation Test, the highest-ever number of students with a score of 25 or higher on the ACT (American College Test), and the highest-ever dollar amount of college scholarships earned.
The class has also achieved at a high level from top to bottom, Standohar noted, saying nearly half — 60 members of the class — are graduating with a grade-point average of 3.0 or better on a 4.0 scale.
As the ceremony ended, Kim Brady, mother of graduate Katelyn Brady, embraced Katelyn and told her through tears how proud she is.
"I couldn't ask for a better daughter," Kim said. "Honey, you are amazing."
School officials agree, saying Brady has inspired them with the work she has done at home to help out with her five younger brothers and sisters.
Even her not-so-younger brother, Josh, 15, agreed.
"She's always been there — even though we fight and argue."
School officials have made allowances for Kaitlyn sometimes being late to school so she can help out with the younger kids, a guidance counselor said.
Katelyn is the oldest had has siblings 15, 9, 7, 6, and 5. She has helped Kim, a single mom, in ways that would be hard for most high school students to imagine.
"She takes care of her younger siblings, gets good grades and has a kind heart," Kim said of Katelyn. "She pitches in wherever she's needed."
Katelyn has also worked as a waitress for more than two years at the same restaurant where he mother used to work. Kaitlyn typically works 30 hours per week.
Katelyn earned a teacher's-aide license and college credit while studying at the Trumbull Career and Technical Center in Champion. She will begin classes in the fall at Youngstown State University and plans to study secondary education and English.
"I want to inspire kids the way I've been inspired," Katelyn said.
Board of Education President Richard Rees told graduates in his talk: "Don't be afraid to veer off the common path. Instead, I ask you to be creative, innovative. Sure you'll fail some, We all fail." Then he quoted from the poet Robert Frost.
"Two roads diverged in a wood, and I — I took the one less traveled by, And that has made all the difference."
Rees said not to "be in a hurry to decide what to make your life's work" and to "work on things that interest you. Find a way to make it interesting to you."
He added, "At some point along the way, you had to overcome some obstacles. The lesson is don't let obstacles stand in your way. They make you stronger."