Canfield class gets life lesson
Canfield High School
Class of 2011
Total graduates: 282
Caps and gowns: Boys wore black, girls wore red.
Class motto: "It's fun to do the impossible." — Walt Disney
Class song: "Young Forever" by Jay-Z
Class flower: Tiger lilly
Class officers: Emily Mae Gleichert, president; Paul John Dahman, vice president; Margaret Joan Watt, secretary/communications; Jillian Nicole Smith, spirit coordinator; Kellie Rae Kesner, public relations.
Canfield High School 2011 Graduation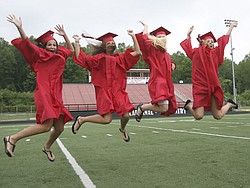 Gallery
Canfield high School 2011 Graduation
By Bob Jackson
CANFIELD
Canfield High School graduate Dr. Robert G. Duffett had some words of awakening for the school's Class of 2011: Life isn't all about you.
Duffett, who graduated in 1972, is president of Dakota Wesleyan University in Mitchell, S.D., and was the speaker at Sunday's graduation ceremony in Cardinal Stadium. He said he was thrilled to return to his hometown for the commencement and got a special kick out of walking across the football field to the speakers' platform.
"I had the privilege of playing in the first football game here at Cardinal Stadium," he said.
An author of several books and scholarly articles over the years, Duffett said he researched several other commencement speeches, seeking ideas and inspiration for his own remarks. However, he found most of them either too cliched or too trite and "triumphal." So he came up with two pieces of advice that he chose to share with the nearly 300-member graduating class.
"Keep going," was his first tip, likening life after high school to a relay race in track or swimming.
"I say keep going, because you ran the first leg really well," he said. "It's impressive."
He said the fact that this year's graduating class amassed some $9 million in scholarships toward higher education speaks volumes about its work ethic and academic achievement.
"The second thing I want to tell you today is that life isn't about you," he said. "The paradox is that today is all about you, but life is not about you."
He urged the graduates to put others before themselves, and in so doing, they will find their identity and their place in the world.
"It's not about you, but it's about using your life to pursue great goals," he said.
Duffett received his master of theology degree from Princeton Theological Seminary and his doctorate from the University of Iowa.
Among the graduates to whom Duffett spoke was 18-year-old Bryan Clark, who said he will leave in a month to begin basic training for the U.S. Air Force. Once that is completed, he will attend college, probably at Ohio State, to study aviation, and then begin his active duty in the military.
"I've always wanted to be a pilot," said Clark, who sported sunglasses for the event.
The prospect of flying planes under combat conditions, should the United States still be at war, is partly what attracted him to the service.
"It's kind of exciting. I want to participate. I want to get involved," he said. "My mom is kind of worried about it, but [his parents] are proud of me that I made a decision and I have a goal."
Gia Velasquez, 18, one of the class valedictorians, said she will study chemistry at Yale but has her eyes on law school later. If her plans follow the map she has in place, she'll eventually become a domestic-relations lawyer and judge.
"My goal is to defend people who can't defend themselves," Velasquez said. "I feel that in divorce cases, the kids too often aren't represented, and I want to be able to defend them."
She acknowledged that chemistry has little to do with domestic-relations law but said having a more rounded background should improve her chances of getting into law school.
Alex Benedict, 18, said the most exciting part of graduation is knowing that he's on the verge of being on his own, taking care of himself.
"I'm ready; I think I can do it," said Benedict, who will study civil engineering at Ohio State's campus in Newark.