Ceremony celebrates life of 'lovely little girl'
By DENISE DICK
denise_dick@vindy.com
YOUNGSTOWN
Unique Moore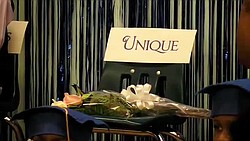 Video
Unique Moore was remembered during Mill Creek Children's Center's graduation Friday in Youngstown. The 5-year-old drowned June 6 in a swimming accident.
Unique Moore Remembered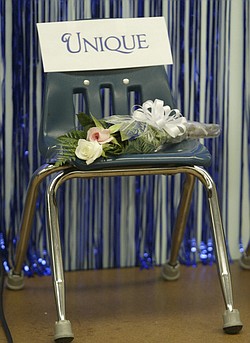 Gallery
Unique Moore, a preschool student at Mill Creek Children's Center who recently died in a swimming accident was remembered during a graduation ceremony at the center.
One little green chair at the Millcreek Children's Center graduation sat empty except for a bouquet of flowers lying across the seat.
It was supposed to be Unique Moore's chair.
Unique, 5, of Roxbury Avenue, died Monday at Akron Children's
Hospital. Lifeguards at the swimming pool at the Willow Lake Park campground in Champion found the girl underwater Sunday afternoon.
Sister Jerome Corcoran, executive director of Sister Jerome's Schools Inc., said Friday's ceremony was to celebrate the accomplishments of the 22 children who completed preschool at the center and "to celebrate the life of a lovely little girl — Unique Moore."
Unique's grandmother, Deidra Dodson Payton, with whom she lived, accepted the girl's diploma at a ceremony at the school. The laminated certificate shows Unique's preschool completion on the front with a photograph of the girl, smiling in her blue graduation cap on the back.
Payton, a tissue wadded in her hand, dabbed her eyes throughout the service, surrounded by family and supporters.
"She was unique — just unique," she said, pointing to the appropriateness of her granddaughter's name.
"She liked to do anything she could to help her grandmommy," Payton said, from cooking to planting flowers.
Family members wore T-shirts bearing Unique's photo with RIP written above it.
Essence Patterson's shirt said "Rocket Power" under the photo. It signifies something Patterson and her goddaughter shared.
"She had a pink ring and a purple ring, and she would give me one and we'd put them together and say 'Rocket power' before she left," she said.
Patterson and Unique's aunt, Lisa Dodson, said she was a wonderful little girl.
"She was beautiful, outstanding, outgoing, and she liked to talk," Patterson said. "It was 21 questions."
The little girl was curious about everything.
And she loved school, Dodson said.
"She was really excited about going to kindergarten," she said.
Unique's father, Norman Moore, said the days since his daughter's death have been difficult for the family.
"But I remember that God makes no mistakes," he said. "You can't blame anybody because this is God's work."
His daughter had a way of drawing people in, and she seemed much older than her young age.
He told the story of how a relative with an injured foot came onto the family's porch one day, and it was Unique, surrounded by adults and older children, who got up, went to the woman and helped her to her seat.
Sister Jerome gave the family a poster signed by all of Unique's classmates.
"We will miss you always," it read.
Unique was registered to start kindergarten at Youngstown Community School this fall.
"Unique's spirit will be with us as we begin next year," said Sister Mary Dunn, YCS principal.