Career Day offers a glimpse at future careers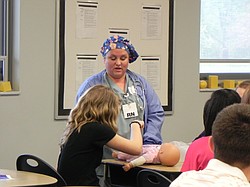 Photo
Neighbors | Sarah Foor .During her presentation to the middle school eighth-graders, registered nurse Carla Ferree asked for the help of student Shelby Swick (left) to decide the ailment of an imaginary patient.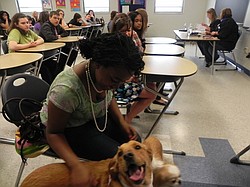 Photo
The dogs also visited some of the students. Andrea Fitzgerald (left) gave a friendly pet to a happy PetSmart grooming customer.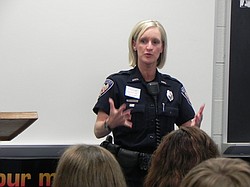 Photo
Austintown law enforcement officer Valerie Saluga chose to tell the students about interesting moments on the job, including the time when she accidentally received some of the shock of a taser.
By SARAH FOOR
For more than 20 years, the Austintown Middle School PTA and guidance counselor John Hudson have invited professionals like graphic designers, nurses, auditors, chiropractors and politicians to visit the eighth-graders at the school for its annual Career Day.
On May 19, the school welcomed more than 40 professionals to show the eighth-graders an array of careers.
AMS PTA president Laurie Gartland explained how the day is organized to offer a fair experience for the students.
"The day includes one main speaker who addresses the entire grade and then our guests tour the classrooms. The kids don't choose where to go, and that's our way of showing the students some jobs they might know they'll find interesting, letting them explore the possibilities."
Hudson hopes that ideas are the most important part of the event.
"Eighth-graders are still young, so today is meant to be an exploratory day. Minds change and they will before these students head to college, but it's good to start thinking about these things," Hudson shared.
In classroom discussions, the professionals each had their own unique approach. Registered Nurse Carla Ferree created four medical stations to explore during her presentation. Austintown police officer Valerie Saluga told stories of her life on the job, including tales of getting accidentally tasered.
Mostly, the day offered eighth-graders a wealth of indispensable advice.
"I knew a long time ago that this interest could become my job. I'm telling the kids to experiment and explore their hobbies and interests. The old adage is true – if you're doing what you love, you never work a day in your life," said John Popio, a photographer for Robert Senn Studio.
More like this from vindy.com