4 from different branches of military gather for a reunion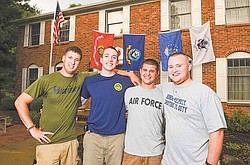 Photo
Four close friends from Boardman, from left, Mark Kuntzman of the Marine Corps, Erik Kuff el of the Navy, Andrew Mitchell of the Air Force Reserves and Zak Dietz of the Coast Guard, gathered for a reunion Friday at Dietz's home.
By Sean Barron
BOARDMAN
To the casual observer, Friday's outdoor party and festivities at Zak Dietz's Bristlewood Drive home might look like many other summer get-togethers.
A closer look, however, would reveal a gathering that's a reunion, a good-luck wish, a welcome-home party and a congratulatory assemblage all rolled into one — with a military flair.
"I stumbled onto the Coast Guard Academy and fell in love with the family structure," said Dietz, who graduated May 18 from the U.S. Coast Guard Academy's Class of 2011 and is to leave Sunday for Portsmouth, Va.
The gathering also marked the first time in about 18 months that Dietz and longtime friends Mark Kuntzman, Andrew Mitchell and Erik Kuffel were together, because each of the four is in a different branch of the military.
Also in attendance were their parents, girlfriends and other family members and friends.
Dietz recalled having entered a four-year Coast Guard program shortly after graduating from Cardinal Mooney High School in 2007. As a result, he will serve at least five years in the Guard, he noted, adding that his father and older brother were in the Marines.
Dietz said one of his earliest memories is of rummaging through his father Wayne's Marine Corps equipment and realizing that one day he, too, would serve his country.
"It was not a question of if, but of when," he added.
Kuntzman, a 2007 Boardman High School graduate who lives in Carlsbad, Calif., said he and Dietz met when both attended kindergarten at St. Charles Elementary School in Boardman and fancied themselves being in the Marines.
"It's my grandpa's fault," Kuntzman said with laughter, referring to his grandfather's influence on his joining the military.
Kuntzman, who's served nearly four years in the Marines and is stationed at nearby Camp Pendleton, also has completed two seven-month tours of duty, one each in Iraq and Afghanistan.
Mitchell's father served 22 years in the Air Force, so perhaps it's logical to figure that a career in the Air Force Reserves awaited the younger Mitchell, who's received training in San Antonio, Texas, and Little Rock, Ark.
"I grew up on Air Force bases, and I've always wanted to do it," he said.
Before enlisting, Mitchell attended Youngstown State University to study secondary education and become a high school math teacher, he said. His top goal now, however, is to be an Air Force pilot, he said.
Kuffel, whose father also had a 22-year Air Force career, graduated last month from the University of Toledo with a bachelor's degree in criminal justice. For now, though, the 2006 Boardman High graduate and member of the Navy has his sights set on entering boot camp Nov. 15.
Kuntzman introduced Kuffel and Dietz, both of whom have been friends for three or four years, Kuffel added.
Before Dietz, Kuntzman, Mitchell and Kuffel begin to part ways Sunday, they plan to spend part of today at Lake Milton with no agenda.
"The four of us have no big plans," Mitchell said. "We'll just hang out and reminisce."