Youngstown Playhouse closes out season with 'Dixie Swim Club'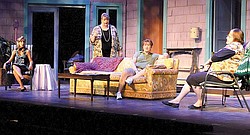 Photo
RAMI DAUD | THE VINDICATOR.Cast members of the Dixie Swim Club rehearse Monday, June 6 at the Youngstown Playhouse.
IF YOU GO
What: "Dixie Swim Club"
Where: The Youngstown Playhouse
When: 7:30 p.m. Friday and Saturday, and June 17 and 18; and 2:30 p.m. Sunday and June 19
Tickets: Call 330-788-8739 for reservations
Silent auction: For the Dogs Animal Rescue and the Youngstown Playhouse will have a joint fundraiser after Sunday's matinee performance. Admission is $15 and includes a ticket to the play and the silent auction. Tickets must be purchased in advance. Email forthedogs_elizabeth@live.com, or go to ForTheDogs.Petfinder.com.
The Youngstown Playhouse closes out the 2010-11 season with its final main-stage production, "Dixie Swim Club," which opens Friday.
An old-fashioned crowd-pleaser in the "Steel Magnolias" tradition, "Swim Club" boasts an impressive roster of some of the area's finest actresses. And in Christopher Fidram, it has one of the most respected directors on the community-theater scene.
In a recent interview, Fidram discussed what it was like making his Playhouse directing debut — and why a play as resolutely, unapologetically frivolous as "Swim Club" is such a pleasant break from the Sturm und Drang of heavy- duty dramas, which are his usual bill of fare.
Q. Despite accruing an impressive number of helming credits in local theater, you've never directed at the Youngstown Playhouse before. What are the most significant differences between directing at, say, the Oakland Center for the Arts and the YP?
A. It's something I've wanted to do for a long time. The Playhouse gave me my start in community theater almost 30 years ago. So when the opportunity presented itself, I was all for it. As for the differences between directing at the Playhouse and other local theaters, the enormous stage, for starters — it's huge! I'm used to working in more intimate spaces where five people onstage at one time becomes a crowd (laughs). So I'm still adapting to that, and to making sure the play "reads" to an audience from 100 feet away.
Q. Like "Kitchen Witches," which you directed at Trumbull New Theater in 2009, "Dixie Swim Club" is a relatively obscure play, better known for its popularity on the regional theater circuit than from any big-city production. What appeals to you about this type of work — versus a Pulitzer winner with an established reputation (e.g., "Dinner With Friends" or "Rabbit Hole")? And which type of play is more of a directorial challenge?
A. I'm challenged by every play I direct — I'm still fairly new at this, after all. And though I love serious pieces, it's necessary to branch out and try something different from time to time. I don't want to limit myself, so I'll direct a few heavy dramas and then do a "Kitchen Witches" or "Night of the Living Dead." Sometimes I just need a break from all the seriousness (laughs).
Q. What's the play "Dixie" about?
A. "Dixie Swim Club" is about five friends who swam together in college and reunite each August for a "girls' weekend." The play spans four decades in their lives, and in that time we watch the ladies deal with marriages, kids, careers and of course the joy and pain of growing older. Most of the time we just watch them having fun. Recent stuff that I've directed ("Dinner With Friends," "Fat Pig") painted such bleak portraits of friendship, so it's refreshing to direct a play which recognizes all the positives of having life-long friends. "Dixie" celebrates that, and I think many of us can relate to that with our own friends.
Q. Thanks to your reputation as a great director of actresses, you must have had every able-bodied actress of a certain age in the tri-state area audition for this show. Who made the final cut?
A. The play stars Denise Sculli, Stephanie Cambro, Terri Wilkes, Geri Sullivan and Lori Broderick. These are five gifted and generous comedic actresses. And it's been a thrill to direct them.
Q. "Dixie" is admittedly a feather-weight confection. How do you prevent the play from evaporating into the ether?
A. My strategy is to let the play be exactly what it's intended to be: a light, escapist summer comedy filled with outrageous, larger-than-life characters who do ridiculous things. And make me laugh a lot (laughs).
Q. Can you tell us a little about your upcoming YP projects for the 2011-12 season?
A. I'll be back at the Playhouse this fall directing "Circle Mirror Transformation," a play about everyday people who enroll in a community-theater acting class. I can't wait to jump into that one!
More like this from vindy.com