With future at stake, Klein chooses steak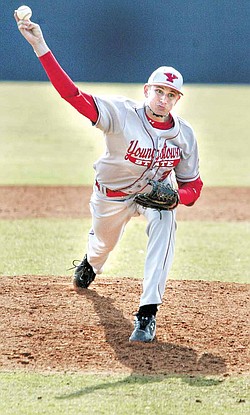 Photo
By Joe Scalzo
With draft fatigue setting in and Phil Klein facing the growing realization that he'd have to wait until Wednesday to see his name attached to a major league team, the YSU pitcher joined up with some friends and family for dinner Tuesday night at his favorite Columbus restaurant, Japanese Steak House.
He was there both to celebrate a strong academic year at YSU and to get his mind off the draft.
"Everyone was around the computer all day, just freaking out, and it was making me more nervous," said Klein, who finally left after the 25th round. "I needed to get my mind off things."
That proved impossible. As soon as he sat down, everyone around him started pulling out their phones to check for draft updates.
Since cell phone reception was sketchy inside the restaurant, Klein texted his YSU roommate, Cody Dearth, who was following the draft on his laptop. By the time the 30th round — Tuesday's last — started, Klein had all but accepted that he was headed for a sleepless night.
"All the sudden I got a text that said, 'You're a Ranger!!!' with a bunch of exclamation marks," Klein said. "I read it and kind of did a double take.
"At that point, it turned into a draft celebration."
Klein, a first team all-conference pick in 2009 and second-team selection this year, went 5-5 with a 3.61 ERA this spring.
"Nothing physically changed between this year and my junior year, it was just confidence," said Klein, who struggled as a junior. "It's such a mental game. You can run and lift and work on your mechanics for Lord knows how long but how you think can change [your performance] so much."
Klein will become the fourth Penguin pitcher in the minors, joining Justin Thomas (Indianapolis Indians), Aaron Swenson (Delmarva Shorebirds) and Eric Marzec (Wisconsin Timber Rattlers).
Not surprisingly, Klein has been dreaming of this day since he was a kid and still has poems he wrote in elementary school about becoming a pro baseball player.
He played many sports growing up — football, basketball, soccer — but said baseball has always been special.
"I sort of lost interest in the other sports but I've always been fascinated by baseball," he said. "I've always loved the game, even if I was just screwing around and going out in the yard and playing catch. Or picking up apples and rocks and whatever else and hitting them with Lord knows what, sticks or plastic bats or whatever.
"It's always been my dream and my dream came true."
More like this from vindy.com