Jerrod Niemann finds success by being himself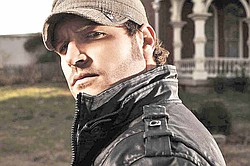 Photo
By John Benson
After his two record-label deals fell apart, country music's Jerrod Niemann became convinced stardom just wasn't in the cards. Sure, he had success co-writing songs for Garth Brooks, Julie Roberts and Blake Shelton, but this Kansas native felt used and abused by the Music City industry.
"You have to have some sort of confidence, otherwise you wouldn't move to Nashville," said Niemann, calling from North Carolina. "There's a difference between ignorance, confidence and having stars in your eyes. I felt like I had enough people who liked the way our music sounded. I think that's why I was very frustrated and didn't know where to turn. I was out of options. I had no money. I ran my girlfriend off to India to work with children who had leprosy because I wasn't ready to settle down. I literally ran her off the continent. I knew I had changing to do."
The notion of change came in the form of advice from his good buddy Jamey Johnson, who believed the Music City grind had eroded Niemann's musical gift. He was the proverbial square peg trying to fit into the round hole. Easily the hottest and most respected new face to emerge out of Nashville in a long time, Johnson said his own personal success came only after he hit rock bottom careerwise and realized the only thing he knew how to do was write songs and record an album.
A few weeks after that conversation, that's exactly what Niemann did. He started writing for himself, not conforming to a record weasel's whim or the archetype of what a modern male country singer must sound like. Neimann's album sat around for a while before he actually mustered the courage to give it to his publishing company, which is co-owned by Brad Paisley. When the country superstar said he wanted to shop the album for a deal, the gun shy Neimann told him the only caveat was the project wasn't a work in progress. It was the finished product, take it or leave it.
That album turned out to be Niemann's major-label debut, "Judge Jerrod & The Hung Jury," which debuted last year at No. 1 on the Billboard country chart. Then the lead single, "Lover, Lover," topped the charts, with follow-up track "What Do You Want" making the top 5.
"I honestly have no clue why people like the album," Niemann said. "I'm very thankful. I just had no direction before this. As silly as it sounds, with this album I felt happiness again. I lost 65 pounds out of the process of making it, just getting my life back on track. So for it to actually see the light of day for one is unbelievable, but to have these two consecutive gold singles is exciting. It's changed my life, changed my career and gave me confidence to go back into the studio with a new passion to know that people are listening."
People will be listening to Niemann this spring and summer as an opener for Brad Paisley's "H2O II: Wetter & Wilder World Tour," which plays Saturday at Progressive Field in Cleveland. Not bad for a country artist who not too long ago was on the outside looking in.
"It was really just waking up one day and realizing the reason Willie and Waylon and Johnny Cash are great are because they have their own voice and their own thing to say," Niemann said. "Though I will never be one of those guys, they're bigger than life, I realized you have to be somebody so you might as well be yourself."