2 plead guilty to embezzling $1.3M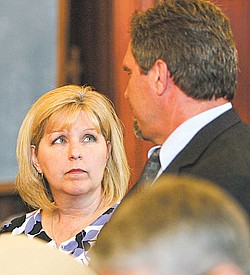 Photo
Linda and Scott Adair pleaded guilty Wednesday to embezzling about $1.3 million from Scott Adair's former business Southwind Trucking Inc. in Austintown. A plea agreement was reached.
By Elise Franco
Youngstown
The Canfield couple accused of an embezzling scheme that afforded them a life of luxury face jail time after pleading guilty.
A plea agreement for Scott and Linda Adair was reached Wednesday before Judge Lou A. D'Apolito of Mahoning County Common Pleas Court.
The pair are accused of embezzling $1.3 million between October 2004 and December 2006 from Scott Adair's former business Southwind Trucking Inc. in Austintown, of which he was a partner.
The Adairs, of Canfield, pleaded guilty Wednesday to the charges listed in the plea agreement.
Scott Adair, 51, pleaded guilty to aggravated grand theft, tampering with records, telecommunication fraud and two counts of money laundering — all third-degree felonies. He also pleaded to one fourth-degree felony count of telecommunication fraud.
Each felony 3 charge brings with it the potential of up to five years in the penitentiary and up to $10,000 in fines. The felony 4 charge is a potential sentence of up to 18 months in prison and a fine of up to $5,000.
Linda Adair, 53, pleaded guilty to one count of complicity to commit theft — a fourth-degree felony. She faces up to 18 months in prison and a fine of up to $5,000.
Assistant Prosecutor Ken Cardinal said both sides decided on a plea agreement because of the time and resources it would take to try the case.
"The case itself is very complex," he said. "Forty-thousand documents made up this case, and if we started a trial, we would be here for months."
Cardinal said Scott Adair, the company's treasurer at the time, opened up a bank account that he could access and funneled company money into it.
He said the couple used the stolen money to pay their mortgage as well as purchase expensive sports tickets, jewelry, vacations and vehicles.
The agreement also outlines a forfeiture specification that Cardinal called a "walk-away agreement."
"You'll pack your bags and leave the house intact," he said.
Cardinal said the defendants have until June 13 to vacate their Canfield home — 5305 Revere Run.
They're allowed to take only clothing and personal photographs from the house, he said.
"A walk-away allows us to make some restitution to the victims," he said.
Southwind trucking went out of business because of the scheme, causing 52 people to lose their jobs, Cardinal said.
Ric Barringer, president of the company, declined to comment.
Scott Adair's former business partner, Barringer, filed a lawsuit against him in March 2009 alleging misappropriation of corporate assets to personal use, breach of contract, fraud and negligence.
That civil case is still pending.
The couple will be sentenced at a later date.